May 3, 2016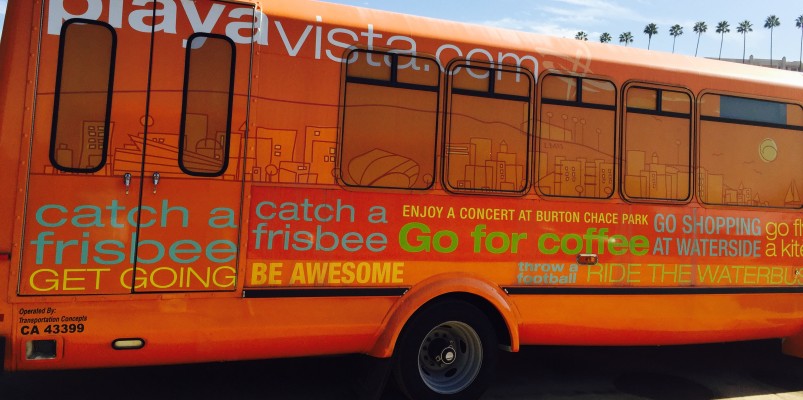 It's about to get even easier to leave your car at home. In addition to Playa Vista's Daily Shuttle that gets you all around the community, the FREE Playa Vista Beach Shuttle is starting up again Friday, May 27th, just in time for Memorial Day weekend. This exciting additional service continues every weekend through the summer, Friday – Sunday, until September 25th for the Abbot Kinney Festival. So you can head out for a day at the beach or lunch and shopping at Fisherman's Village in Marina del Rey without worrying about parking.
Before the beach shuttle excitement launches, there's a special shuttle route to view NASA's last flight-qualified space shuttle external tank, ET-94, in Marina del Rey before the tank travels to be permanently displayed at the California Science Center. It will run on Thursday, May 19th from 10am to 8pm and Friday, May 20th from 10am to 10pm.
Don't forget, the Daily Shuttle service also offers on-demand service to select locations outside of Playa Vista. Just call 877.280.0551 to schedule a reservation.
For full details, take a look at the map and complete list of shuttle stops for the Daily Shuttle HERE. The schedule for the Beach Shuttle will be available soon. Plus, you can track each shuttle's location on NextBus.com so you spend less time waiting.
Playa Vista Daily Shuttle Hours
Shuttles arrive every 30 minutes unless otherwise noted.
Monday to Friday, 8am to 10pm
From 8am to 10am, 11:30am to 1:30pm and 5 to 7pm, shuttles arrive every 15 minutes
Saturday, 10am to 10pm
Sunday, 10am to 8pm
Shuttles operate on Sunday schedule during major holidays.
Join our Interest List for news and updates and to be included in upcoming special events. Check back often and be sure to Like us on Facebook to be kept in the loop.