LA Times – Google Buys 12 Acres
December 3, 2014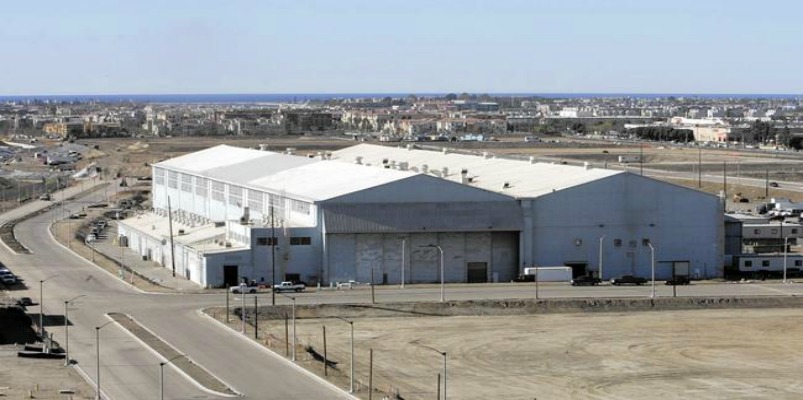 Google Inc. is making a bold move to expand in Southern California, the nation's nexus of technology and entertainment.
The tech titan has spent nearly $120 million on 12 vacant acres next to a historic hangar where aviator Howard Hughes built his famous "Spruce Goose" airplane in the Playa Vista neighborhood near Marina del Rey. The land is zoned for nearly 900,000 square feet of commercial space that could house offices or studios, vastly more room than Google now occupies in a handful of buildings in Los Angeles County.
Google is also expected to lease the Hughes hangar built in 1943. The 319,000-square-foot building has recently housed soundstages for movie and television production.
"This is phenomenal news for the Westside and for the Los Angeles economy," said City Councilman Mike Bonin, who represents the Playa Vista area. "It really makes and brands Playa Vista as the tech and innovation capital of Los Angeles."
The Mountain View, Calif., company wouldn't detail its plans. But if Google is to develop the land as zoned, the Playa Vista site and the Hughes hangar could be home to as many as 6,000 well-paid, highly educated workers. Internet firms such as Google commonly set aside about 200 square feet per employee.
Local entrepreneurs and investors say they're excited about the possibilities that a stepped-up Google presence could bring.
More Google offices mean more quality engineers, many of whom may eventually launch their own ventures in Los Angeles, which in turn will lure more investors and more developers, said Paige Craig, a prolific angel investor who lives in Venice. That self-perpetuating cycle will boost the tech economy, he said.
"The real key to this is Google is going to attract talented people to come to L.A.," Craig said.
The deal also underscores the region's growing influence as a breeding ground for new forms of digital entertainment.
That's especially important as the technology and entertainment sectors continue to converge. These days, companies such as Amazon.com Inc. are churning out original programming, celebrities are launching their own gaming apps, and Apple Inc. recently spent $3 billion to acquire Beats, which included its online music streaming service.
Playa Vista has become a major hub of innovation in recent years. At first, the neighborhood's appeal largely stemmed from its location near major freeways, the Westside and Los Angeles International Airport. Now a vibrant community encompasses media companies, ad agencies, start-ups and established titans.
Last year Microsoft Corp. opened a roughly 20,000-square-foot space in Playa Vista to house 130 employees who had previously been in downtown L.A. Facebook Inc. has operations nearby. The neighborhood boasts the headquarters of online advertising platform Rubicon Project, consumer electronics and accessories maker Belkin International and ICANN, the nonprofit organization that is responsible for assigning Internet domains.
Playa Vista is also home to USC's Institute for Creative Technologies, which has attracted several top virtual reality researchers. The institute is where Oculus Rift founder Palmer Luckey once worked as a designer.
A juggernaut like Google would help bring even more attention, developers and investment to the booming area.
"It increases the quality of the work, it increases the ability to network, it increases the ability to attract more people here," said Kieran Hannon, chief marketing officer at Belkin, which has 450 employees in Playa Vista. "It has a complete knock-on effect."
Google's Playa Vista acquisition and pending lease deal reflect a rapid buildup of bricks-and-mortar facilities for the Internet company.
Google has already bought or rented about 6.2 million square feet of space this year in the Bay Area, bringing its total there to 15 million square feet, according to real estate brokerage statistics.
Three years ago, Google increased its Southern California presence by opening a campus in Venice, where it leased 100,000 square feet in three buildings for about 600 employees. One of those buildings is the Binoculars Building, a three-story office on Main Street designed by architect Frank Gehry.
Google also rents a 41,000-square-foot video production facility for subsidiary YouTube in a renovated former Hughes building in Playa Vista.
A Google spokeswoman said the company, which typically likes to expand near its existing properties, will continue to rent the 69,000-square-foot Binoculars Building. Google views the Playa Vista land purchase as a long-term investment and has no particular design in mind for the site, she said.
Google and property seller Lincoln Property Co. did not disclose how much Google paid for the land, but real estate experts familiar with the transaction who were not authorized to speak about the deal valued the sale at nearly $120 million.
Lincoln is the largest commercial developer in Playa Vista, having built five office buildings including a new West Coast headquarters for big-screen cinema purveyor Imax Corp. that is under construction next door to the new Google property.
Lincoln is also building the Runway, a $260-million retail, housing and office project that will become the commercial heart of Playa Vista when it opens early next year. Other developers are in the process of building an additional 2,600 housing units.
The introduction of potentially thousands of affluent Google workers to Playa Vista, a self-contained neighborhood of about 6,500, would drive the development of new shops, restaurants and housing.
More newcomers are expected to flood Playa Vista in the coming months. Google competitor Yahoo Inc. is expected to lease about 130,000 square feet of office space at Playa Vista in a separate deal with landlord Tishman Speyer, said Jeff Worthe, who co-owns an office complex in the area.
"There is a giant consolidation of the tech industry and content creators coming together, and Playa Vista is the direct beneficiary," Worthe said.
Tenants in Worthe's converted former industrial complex, called the Reserve, include TMZ, Warner Bros, Microsoft, Sony PlayStation and Verizon.
Mike Jones, founder and chief executive of Santa Monica incubator Science, said Google's proximity to existing start-ups in L.A. might entice it to go on a buying spree. That would lead to more technical jobs and set an example for young entrepreneurs on how to successfully create and grow a company in L.A., which would drive more entrepreneurship, he said.
The hope is that Google will invest heavily in Los Angeles and develop an appetite to acquire more companies in Los Angeles, said Jones, the former chief executive of Myspace.
"L.A. needs to turn into a city of acquirers," he said, "not a city of the acquired."