July 2, 2017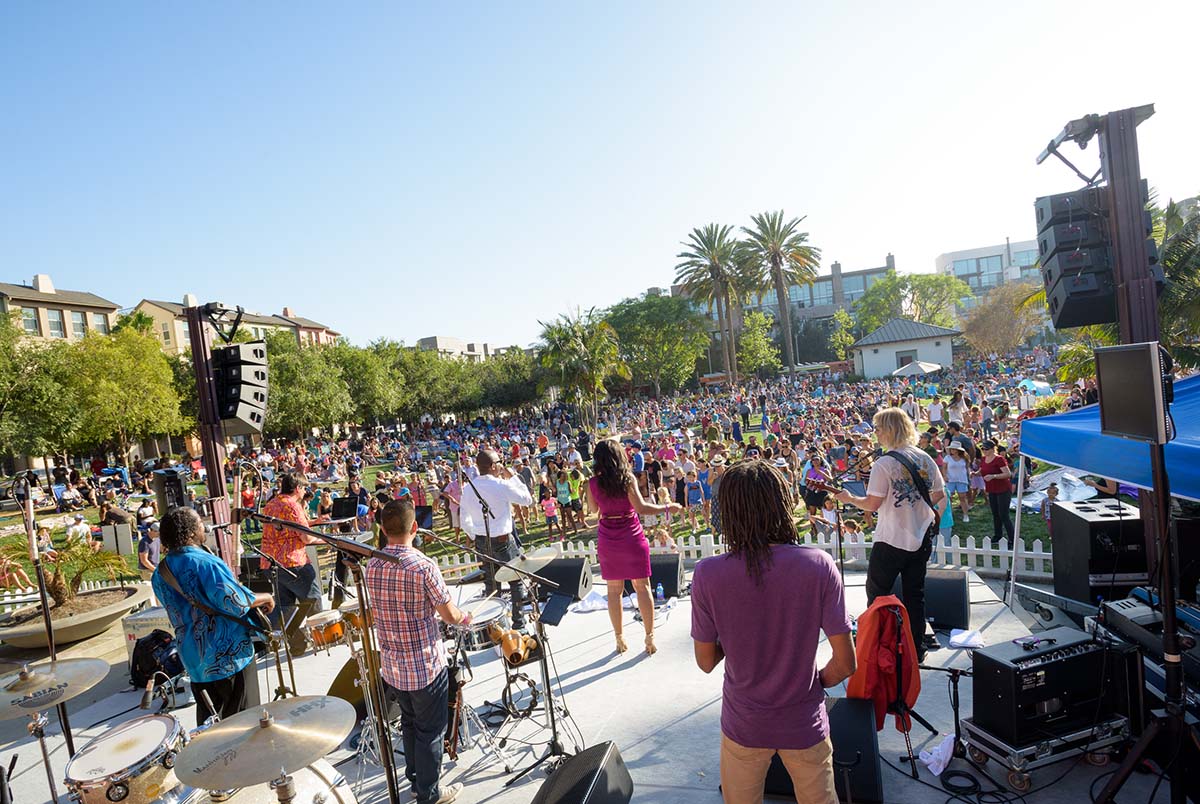 Summer keeps getting better in Playa Vista with Movies and Concerts in the Park, Surprise Pop-Ups and more. Check out the schedule below and join in the fun.

Yoga for a Cause
Saturday, July 8th
Concert Park
9am – 10am (Yoga)
10am – 11am (Kombucha bar and fun treats)
Bring your Om with free yoga in the park while supporting a worthy cause. During yoga, make a monetary donation in support of Wounded Warrior Support Network. All proceeds benefit various programs to support active-duty and wounded veterans and their family members through the long journey back to happy and productive lives. Don't forget to bring your yoga mat and water! After yoga, refresh your soul at the Townshend's Brew Dr. Kombucha bar or teaRIOT booth. If you're looking for yoga gear, Brooke Taylors Yoga apparel has you covered.
Speaker Series: Sustainable Investing
Wednesday, July 12th
The Resort Club Room
6pm – 7:30pm
Sustainable and impact investments may create economic, social and environmental value without sacrificing financial performance. Join us for a private dinner and engaging discussion on opportunities to invest in meaningful ways, while simultaneously seeking market-rate returns. Seating is limited, so please RSVP by July 7th on PlayaLink! 
Movie in the Park – The Notebook
Friday, July 14th
Central Park Bandshell
8pm – 10pm
The Notebook
A poor yet passionate young man falls in love with a rich young woman, giving her a sense of freedom, but they are soon separated because of their social differences. Enjoy a variety of gourmet food truck eats from 6pm to 9pm. 
Food Trucks
The Recess Truck
Sanook Soi 38 Thai Street Food
The Tropic Truck
Canvas Foods
Surprise Pop-Up
Saturday, July 15th
Concert Park
10am – 2pm
Take your artistic abilities to the park and look for this art piece.
Concert in the Park – No Duh
Sunday, July 23rd
Central Park Bandshell
5pm – 6:30pm
This national-touring tribute band captures the sound, style and look of Gwen Stefani and No Doubt. Grab some gourmet food truck eats from 4pm to 7pm.
Food Trucks
Pinch of Flavor
Belly Bombz
Tender Grill
Recess Truck
Roll 'n Lobster
The Fix Burger
BBQ Smokehouse
Spyro's Gyros
Campus Concert
Thursday, July 27th
Central Park Bandshell
12pm – 1:30pm
Enjoy a free BBQ lunch while listening to a mix of country beats with Branch & Arrow. Don't forget to bring your company ID badge. Come early as lunch is served while supplies last.
National Night Out
Tuesday, August 1st
Concert Park
6pm – 9pm
Brookfield Residential, PVPAL and PVCS are pleased to support the LAPD and CPAB (Community Police Advisory Board) in their annual National Night Out (NNO) event. NNO is a nation-wide program to promote police-community partnerships. Enjoy music from a local band, munch on hot dogs, mingle with your community neighbors and officers and learn about safety awareness.
SPOTLIGHT PROGRAMS AT THE RESORT FOR RESIDENTS
July BINGO Challenge!
All Month Long
Let's play a game of fitness-style BINGO at the Resort! Grab a BINGO card at the front desk. Your goal is to get "BINGO" by completing 5 activities in a vertical, horizontal, or diagonal line. Activities include participating in our free group fitness classes, joining Run Club on Wednesday, and taking a sweaty selfie at the gym! Once complete, you'll be entered to win a prize!
Specialty Class Series: Summer Cycling
Saturday, July 15th
The Resort, Outdoor Fitness Floor
8am –  9am
Start your weekend with an energizing cycling class held upstairs on the outside fitness area. You will listen to great tunes while Micaela takes you through a challenging and fun ride. All levels are welcomed! Plus, Noosa Yoghurt will be available for sampling post workout! Register on PlayaLink via the Resort website.
Specialty Class Series: Summer SWEAT Circuits
Saturday, July 22nd
The Resort, Outdoor Fitness Floor
8am –  9am
Get ready to SWEAT in our outdoor summer specialty class! This 60-minute specialty class will go through various circuits to challenge both your cardiovascular endurance and your muscular strength. We will go through fun drills using the outdoor stadium-style stairs, box jumps, battle ropes, bosu balls, medicine balls, and more! All levels welcome. Plus, we'll have a Lorna Jane trunk show for shopping post workout! Register on PlayaLink via the Resort website.
Free Samples & Discounts at The Resort
Saturday, July 15th, 9am – 12pm: Noosa Yoghurt will be in the Fitness Center handing out free post-workout munchies!
Saturday, July 22nd, 9am –  12pm: Lorna Jane and teaRIOT will be here with discounts on cute women's fitness apparel and free samples!
Merryland Dance Studio
Summer 6-Week Series Starting July 6th!*
Offering Baby Ballerina, Prima Ballerina, Fairytale Ballerina, Bangin' Ballet Body, Kids Hip Hop/Jazz Combo, Hip Hop Barre Classes
*Now offering a 15% off special for PVMG and Silicon Beach members!
Visit PlayaLink via The Resort Website for details and to sign up!
OTHER COMMUNITY ACTIVITIES AND EVENTS
Wallis Annenberg PetSpace
Get involved with Wallis Annenberg PetSpace. They are in search of great people who have a love for animals and a passion for helping people and pets. Volunteer opportunities are available now. Learn more or sign up to volunteer.
Welcome to the Playa Vista Family
It's the little things that bring us the greatest joy! Playa Vista Community Services and Whole Foods want to welcome your newborn baby to the Playa Vista family. If you live in Playa Vista and have had a baby in the last three months, visit PlayaLink. We have a special treat to help welcome all the new experiences, thrills and wonders that parenthood brings.
Neighbor in Need
Life is full of challenges and, as a good neighbor, we understand how stressful that can be. Playa Vista Community Services and Whole Foods will begin accepting "Neighbor in Need" requests. Every month, we will select one request to fulfill. Our goal is to support our neighbors through this tough time. To learn about this community program, please visit PlayaLink.
Save the Date!
Saturday, August 12th – Yoga for a Cause at Concert Park from 9am to 10am
Sunday, August 13th – Concert in the Park at Central Park Bandshell from 5pm to 6:30pm
Friday, August 18th – Movie in the Park at Concert Park from 8pm to 10pm
Saturday, August 19th – Surprise Pop-Up at Concert Park from 11am to 2pm
Thursday, August 24th – Campus Concert from 12 to 1:30pm
Join our Interest List for news and updates and to be included in upcoming special events. Check back often and be sure to Like us on Facebook to be kept in the loop.