February 3, 2016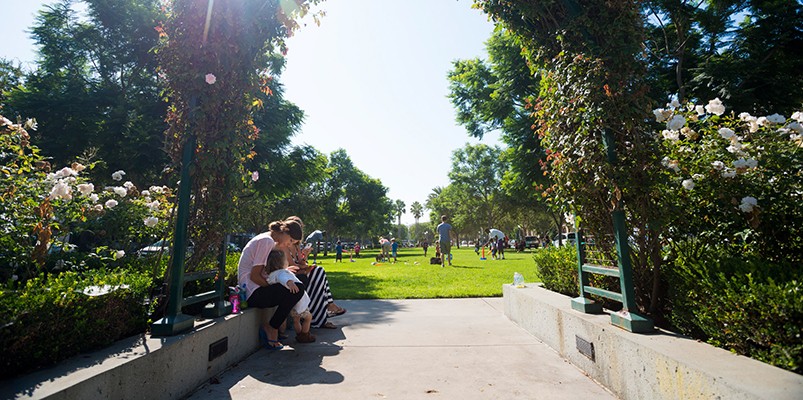 With parks and open spaces in every direction, Playa Vista lets you find the perfect place to unwind, come together and take it all in. You'll discover acres of inviting parks that make room for adventure and expand far beyond any yard. From Bluff Creek Fields and The Lawn to Common Grounds, The Spot and Corner Greens, this collection of new parks reaches a whole new level of al fresco fun. Many of these parks are now open and some are coming soon. Check out our Interactive Map and get going.
Bluff Creek Fields
Right along Bluff Creek Drive, Bluff Creek Fields is your go-to spot for all things outdoorsy. Round up the crew for a quick soccer match or tennis game or take Fido on a relaxing stroll. Whatever fuels your active spirit—you're sure to find it at Bluff Creek Fields.
The Lawn
Get together with the whole family for some quality time at The Lawn. Bordered by Runway South Apartments, this park is an ideal place to unwind, get together for a party or play with the kids at the tot lot.
Common Grounds
Relax, reflect or just enjoy the soothing sounds of the fountain at Common Grounds—your place to take it all in. Adjacent to Skylar, you'll discover that there's nothing common about this park in Playa Vista.
The Spot
This is the perfect place for cozying up by the fireplace, watching the kids play in the tot lot and barbequing any day or night.
Corner Greens
Across from Skylar and The Spot, Corner Greens is where you can take your get-togethers outside. With an outdoor kitchen, seating and community garden plots, Corner Greens is the place to grow everything from vegetables to friendships.
Join our Interest List for news and updates and to be included in upcoming special events. Check back often and be sure to LIKE us on Facebook to be kept in the loop.