Argonaut – Summer of Sound
July 15, 2014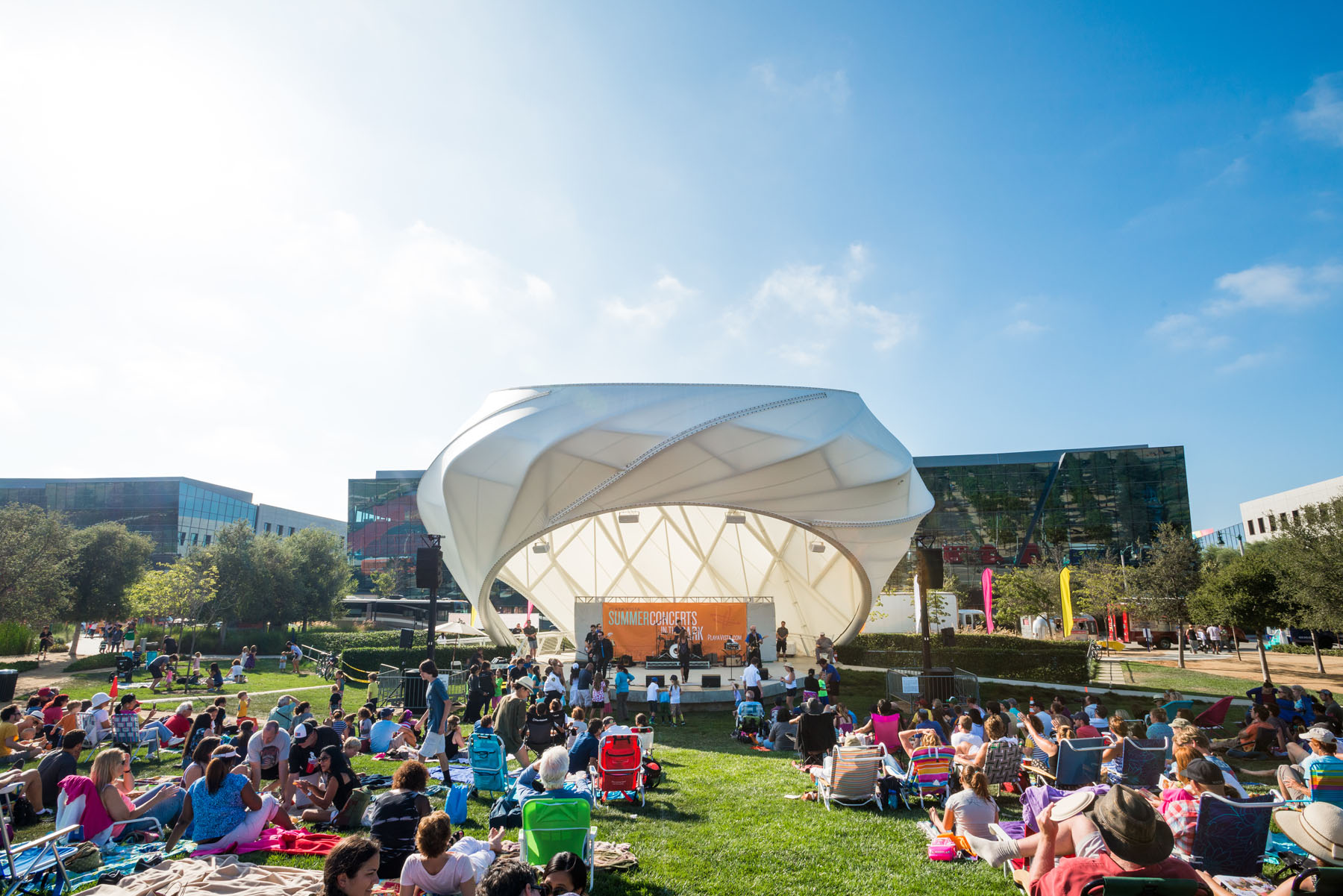 The season offers dozens of free concerts under the sun and stars
There are plenty of ways to spend your money this summer — catching the latest 3D blockbuster, taking a road trip, spending a day at Disneyland — but music isn't one of them. Unplug from Spotify for a minute to discover a wide range of free outdoor concerts happening practically right at your doorstep.
Summer concert series in Santa Monica, Marina del Rey, Playa Vista and other nearby communities offer shows to match anyone's musical taste. From familiar names such as Greg Allman, Roberta Flack, Blue Öyster Cult, Lee "Scratch" Perry, Wynonna, the Zombies and Bernadette Peters to celebrated local acts like Venice's The Dustbowl Revival, L.A. chanteuse Jessica Fichot and members of the band Venice pulling double-duty playing rock and funk covers as Pine Mountain Logs, there's plenty of sound to enjoy and discover.
— Michael Aushenker
Marina del Rey Summer Concerts
7 p.m. Thursdays and Saturdays
@ Burton Chace Park, 1350 Mindanao Way, Marina del Rey
(310) 305-9595; beaches.lacounty.gov
Twilight Concert Series
7 p.m. Thursdays @ Santa Monica Pier
santamonicapier.org
Fisherman's Village Free 
Outdoor Concerts
2 to 5 p.m. Saturdays and Sundays
@ Fisherman's Village, 13755 Fiji Way, Marina del Rey
(310) 301-9900; visitmarinadelrey.com
Playa Vista Concerts in the Park 
5 to 6:30 p.m. Sundays
@ Central Park Bandshell or Concert Park
playavista.com
Culver City Summer Festival
7 to 9 p.m. Thursdays
@ Culver City City Hall Courtyard, 9770 Culver Blvd., Culver City
culvercity.org
El Segundo Summer Concerts 
in the Park 
4 p.m. Sundays
@ Library Park, 101 W. Maiposa Ave., 
El Segundo
(310) 524-2700; elsegundo.org
Saturdays off the 405
6 to 9 p.m. Saturdays
@ Getty Museum Courtyard, 1200 Getty Center Drive, Brentwood 
getty.edu
Country in the City
5 p.m. Saturdays
@ Annenberg Space for Photography, 2000 Ave. of the Stars, Century City
events.kcrw.com
Jazz on the Lawn 2014
5 to 7 p.m. Sundays in August
@ Stewart Street Park, 1836 Stewart St., Santa Monica
Bands TBA in mid-July at smgov.net
Fri., July 4: Friends @ Fisherman's Village
A Fisherman's Village staple, the band returns to play a selection of popular R&B covers.
Sat., July 5: Bob DeSena @ Fisherman's Village
Hearing Latin jazz musician and vocalist DeSena's hit those dulcet notes on the xylophone, backed by Roland Mendoza's congas, captures a seasonal moment in time — a summer vibe. Nominated Jazz Artist of the Year by the 2014 Los Angeles Music Awards, DeSena, who also plays trumpet and flugelhorn, draws from the influences of Cal Tjader, Herb Albert and the immortal Tito Puente.
Sun., July 6: Jimi Nelson & the Drifting Cowboys @ Fisherman's Village
These boys excel at executing Top 40 country ditties, and Nelson belts out old-school country tales of lonesome cowboys and cheatin' hearts in the tradition of Hank Williams and Buck Owens.
Thurs., July 10: Cults, with James Supercave @ Santa Monica Pier
Equal parts ambient and Arcade Fire, New York-based indie rock duo Cults are expected to draw heavily from sophomore album "Static" on the Twilight Concert Series' opening night. The band's ethereal, movie-soundtrack-ready qualities may be epitomized by the video for 2010's "Go Outside" — mashing up "Breathless" and A-Ha's "Take on Me" with otherworldly banshee choruses playing over images of Dave Franco and Emma Roberts as a couple romping under the Santa Monica Pier, with Roberts' anachronistic Parisienne returning to a stylized world within a television set in the end.
Thurs., July 10: Opera at the Shore @ Burton Chace Park
Maestro Frank Fetta conducts the Marina del Rey Summer Symphony in a showcase of finalists in the Loren L. Zachary National Vocal Competition through arias and ensembles from best-loved operas.
Thurs., July 10: Andre Thierry and Zydeco Magic @ Culver City City Hall
The Northern California native delves into his French Creole heritage for some deeply rooted Louisiana fun.
Sat., July 12: Jimbo Ross & the Bodacious Blues Band @ Fisherman's Village
A seasoned session musician, Ross has performed with and/or toured with Bob Dylan, Roy Orbison, Johnny Mathis, the Moody Blues, Pete Townshend, Elton John and Led Zeppelin, so expect some classic rock numbers to seep into his no-nonsense blues set.
Sat., July 12: Chicano Batman @ the Getty Center
Eastside fusionists Chicano Batman combine cumbia, Brazilian tropicalia and Mexi-ballads, with strains of '60s rock standards such as Santana and Jimi Hendrix.
Sun., July 13: Surf City All-Stars @ Playa Vista Central Park Bandshell
Expect lots of songs about sun, surf, girls and hot rods as these original members of various surf groups —including Dean Torrence of Jan & Dean and the Beach Boys' Al Jardine and David Marks — perform a roster of California-centric favorites.
Sun., July 13: Sullivan Hall @ Fisherman's Village
To hear Hall play James Brown's funk classic "Papa's Got a Brand New Bag" recalls an era long gone and duly missed. If he's backed by the same lineup on this return Fisherman's Village gig, get set to get up and get down as Hall's guitarist and trombonist jam on an instrumental interlude during "I Heard It Through the Grapevine."
Sun., July 13: Platinum Rockstars @ El Segundo Library Park
Featuring David Victor, a new member of the band BOSTON, this band specializes in 1970s and '80s arena rock and has shared the stage with Pat Benatar, Foreigner and Barenaked Ladies.
Thurs., July 17: Jessica Fichot, Los Pinguos @ Culver City City Hall
Parisian-born, L.A.-based chanteuse Fichot pushes forward the foundations of French folkoric artists Edith Piaf, George Brassens and Yves Montand by fusing traditional stylings with gypsy jazz and 1940s swing drawn from her Chinois heritage. Employing accordion, toy piano and sultry vocals, she performs originals as well as familiar classic chansons. Buenos Aires natives Los Pinguos (The Penguins) blend Latin rhythms, Argentine rock and Spanish guitars with harmonizing vocals.
Thurs., July 17: Yuna, with King and KCRW DJ Anthony Valadez @ Santa Monica Pier
Drawing comparisons to coffeehouse-cuddly, velvet-voiced songstresses Feist, Adele and Norah Jones, the young Malaysian singer-songwriter has expanded on the promise of her self-titled 2012 debut (and its Pharrell Williams-produced lead single "Live Your Life") with "Nocturnal," a collection of 11 originals including "Someone Who Can," featuring her lofty vocals soaring over a U2-urgent drum track. The influence of the Cardigans and Fiona Apple are evident in the sultry singer, whose vocals tumble over the suspenseful, bone-trickling verse of the album's lead single, "Falling," building to an ethereal chorus as the music swells underneath her.
Sat., July 19: Yuna @ Burton Chace Park
See July 17.
Sat., July 19: Gregg Allman, with Sturgill Simpson @Annenberg Space for Photography
Soulful-voiced Gregg Allman and brother Duane epitomized Southern rock with the Allman Brothers Band; Simpson livens up tradition with his live electrified bluegrass jams. KCRW concert series ties to the "Country: Portraits of an American Sound" photo exhibit.
Sat., July 19: Blue Breeze @ Fisherman's Village
Call it an R&B El Nino when a waft of funk, soul and Motown drifts over the marina as these locals play Stevie Wonder, Sam & Dave, The Temptations, Otis Redding, Wilson Pickett, Kool and the Gang and some newer songs, too, including recent smash-hit Pharrell Williams collaborations "Blurred Lines" and "Get Lucky."
Sun., July 20: DSB @ Playa Vista Concert Park
Billed as a Journey tribute band, "DSB" can only stand for "Don't Stop Believin,'" Journey's biggest smash single. Expect DSB to also perform "Any Way You Want It" and "Wheel in the Sky" from the early '80s pop-rock kings.
Thurs., July 24: Cayucas, with Papa and KCRW DJ Chris Muckley @ Santa Monica Pier
Imagine the bustling instrumentation of Cake's "You're Never There" married to drifting, ghostly Beach Boys harmonizing and you begin to hear "High School Lover," the perky single off the album "Bigfoot" by Santa Monica's own Cayucas. Pronounced "ky-yook-us," the band's name references Cayucos, the sleepy seaside enclave in San Luis Obispo County en route to Cambria.
Thurs., July 24: violinist William Hagen @ Burton Chace Park
Though just 22, Hagen brings a wisdom to his performances nearly as aged and well-honed as his trusted Andrea Guarneri (Cremona, circa 1675) violin. Studying music since age 4, the prodigy spent two years learning at the feet of Itzhak Perlman and Catherine Cho at The Juilliard School before studying under Robert Lipsett at the Colburn School Conservatory of Music.
Thurs., July 24: Surf City All-Stars @ Culver City City Hall
See July 13.
Sat., July 26: Caught a Ghost @ the Getty Center
Fueled on the sounds of Sam Cooke, Motown and Stax Records with contemporary hip-hop and EDM flourishes, Caught a Ghost is the latest musical project from L.A. songwriter/producer Jesse Nolan, featuring actress Tessa Thompson on vocals and Nolan's kindergarten classmate Stephen Edelstein on drums.
Sat., July 26: Shelby Lynne, with Jamestown Revival @ Annenberg Space for Photography
Grammy-winning contralto singer and songwriter Lynne joins the harmonizing, storytelling, Texas-born, L.A.-based rockers Jamestown Revival.
Sun., July 27: Petty Theft @ El Segundo Library Park
Money on the table says this Tom Petty tribute band plays "American Girl," "Refugee," "I Won't Back Down," "Free Fallin,'" and "Runnin' Down a Dream."
Thurs., July 31: Omar Souleyman, with KCRW DJ Aaron Byrd @ Santa Monica Pier
With his headscarf and bushy Saddam Hussein mustache, Syria's Souleyman might look like a Sasha Baron Cohen caricature to American audiences, but musically he's the real deal. From screeching instrumentals to Arabic toasting over banquet hall claps and shrill synthesizers, Souleyman may have single-handedly altered the soundtrack of weddings throughout the Middle East with his signature Shaabi street sound.
Thurs., July 31: The John Jorgenson Bluegrass Band @ Culver City City Hall
Country rock band co-founders Jorgenson and Herb Pedersen team with guitarist Jon Randall and bassist Mark Fain. Jorgenson, who portrayed Django Reinhardt in the movie "Head in the Clouds," won a Grammy for Best Country Instrumental with Brad Paisley and was nominated for Best Bluegrass Album with Earl Scruggs.
Sat., Aug. 2: Blue Öyster Cult @ Burton Chace Park
This Long Island hard rock outfit needs little introduction, having cemented itself soundly into pop culture with "Godzilla," "Burnin' for You," and the ubiquitous classic-rock staple "(Don't Fear) The Reaper." Blue Öyster Cult has sold 24 million albums around the globe, with a "Saturday Night Live" skit featuring Will Ferrell and Christopher Walken leaving a new generation wanting "More cowbell!"
Sat., Aug. 2: Wynonna & the Big Noise, with Nikki Lane @ Annenberg Space for Photography
Selling 30 million albums as a solo artist or with the Judds, Wynonna is a household name; country prodigy Lane reinvents '60s country and recently
recorded an album produced by The Black Keys' front man Dan Auerbach.
Sun., Aug. 3: Pine Mountain Logs @ Playa Vista Central Park Bandshell
Featuring members of the legendary local band called Venice, the Logs get down to earth and downright heavy covering songs from a variety of 1970s acts ranging from the funk and soul of Earth, Wind and Fire to the borderline Tolkien hard rock of Led Zeppelin.
Thurs., Aug. 7: pianist Yana Reznik @ Burton Chace Park
A passionate performer known as "the pianist with a voice," the aurally and visually captivating Reznik breaks the bounds of the expected with innovative programs designed to make classical music relevant to wider audiences, including a recent appearance at TEDx Skid Row. She's packed Carnegie Hall, appeared on "The Late, Late Show with Craig Ferguson" and performed with Carrie Underwood (on the American Country Music Awards), the San Francisco Symphony, the Los Angeles Chamber Orchestra and the L.A. Phil.
Thurs., Aug. 7: Jagwar Ma, with KCRW DJ Jason Bentley @ Santa Monica Pier
Born with the drum rattle and a capella choruses of their debut single "Come Save Me," Sydney duo Jagwar Mar puts the jangling stomp in Australian alt rock.
Thurs., Aug. 7: Katia Moraes & Brazilian Hearts, Orquesta Charangoa @ Culver City City Hall
Brazilian singer Moraes leads a repertoire of samba music and Orquesta Charangoa performs Charanga-style Cuban music.
Sun., Aug. 10: Scott Whyte Band @El Segundo Library Park
Led by the 36-year-old guitarist and former child actor who has appeared on "That '70s Show," "The Nanny" and "Just Shoot Me," the South Bay trio plays "Could You Be Loved," "Café Boogaloo" and groovy covers of the Beatles' classics "Something" and "Lady Madonna."
Thurs., Aug. 14: La Santa Cecilia, with Sergio Mendoza Y La Orkestra and KCRW DJ Raul Campos @ Santa Monica Pier
Named after the patron saint of musicians, La Santa Cecilia conveys love, loss and heartbreak, drawing on influences from Miles Davis to Janis Joplin, Mercedes Sosa and Ramon Ayala as they perform their Spanglish rendition of The Beatles chestnut "Strawberry Fields Forever," plus new cuts "Como Dios Manda" and "Monedita."
Thurs., Aug. 14: The Dustbowl Revival @ Culver City City Hall
This Venice-based roots/jazz collective sums itself up as "Bob Dylan and The Band and Ralph Stanley jamming with Louis Armstrong and Mumford & Sons on a front porch in 1938." Call it jug-band music or hillbilly jazz, Dustbowl promises to deliver "raucous dance-inducing live sets."
Sat., Aug. 16: Roberta Flack @ Burton Chace Park
The R&B singer was the first artist to win the Grammy for Record of the Year twice in a row — for "The First Time Ever I Saw Your Face" in 1973 and "Killing Me Softly with His Song" in 1974. Those two iconic hits, "Feel Like Makin' Love," and the Donny Hathaway duets "The Closer I Get to You" and "Where is the Love," have ensured Flack a perpetual place in pop culture. Her songs are timeless: "Killing Me Softly" became The Fugees' biggest hit when Lauryn Hill re-recorded it in 1996, while "The First Time Ever I Saw Your Face" makes recurring appearances in "X-Men: Days of Future Past," this summer's biggest Marvel superhero flick.
Sun., Aug.17: N'Demand @ Playa Vista Concert Park
Party like it's 2009 as the contemporary-pop cover band belts out recent-ish hits from Christina Aguilera, Pink and Maroon 5, among others.
Thurs., Aug 21: The Zombies, with Mystic Braves and KCRW DJ Jeremy Sole @ Santa Monica Pier
The Zombies were the second British Invasion group to score a No. 1 hit in the U.S. While The Beatles may have cast the longer shadow, The Zombies breathed whispery vocals and jazzy keyboard riffs onto Billboard's pop charts with the hits "She's Not There," "Tell Her No" and the 1968 chart-topper "Time of the Season."
Thurs., Aug. 21: Bernadette Peters and her 10-piece orchestra @ Burton Chace Park
One of Broadway's brightest stars, Peters has won two Tony Awards (seven nominations), three Drama Desk Awards and starred in four Grammy-winning Broadway cast albums. Celebrated as a leading interpreter of the works of Stephen Sondheim, Peters has appeared in the musicals "Sunday in the Park with George," "Into the Woods," "Annie Get Your Gun" and "Gypsy." Acting turns have included the film adaptation of "Annie," former flame Steve Martin's "The Jerk" and Mel Brooks' "Silent Movie." No doubt her wit and whimsy will shine between numbers.
Sat., Aug. 23: BADBADNOTGOOD @ the Getty Center
The formally trained keyboard-bass-drums trio blends jazz and hip-hop and has collaborated with P-Funk's Bootsy Collins and Wu-Tang Clan's RZA.
Sat., Aug. 23: Venice Beach Music Festival IX
The sister festival to Venice Spring Fling closes out summer celebrating the esprit of Venice with a lineup that includes "Time Has Come Today" soul singer Willie Chambers of The Chambers Brothers; funk and blues practitioners The King Brothers; second-wave ska group The Untouchables; the L.A.-based trio of Captain Mic Dangerously, Scott Wittenberg and Timmy "Too Tall" Baker known as Zen Robbi; the reggae-cumbia-funk-soul of Roots Collective, California reggae-meisters Jah Faith and The Hashishans; and The Glen Douglass Band, built around Douglass, who co-wrote The Steve Miller Band's hit "Jungle Love." Music runs 11 a.m. to 7 p.m. at Windward Plaza Park, 1 Windward Ave. Visit venicebeachmusicfest.com.
Thurs., Aug 28: Lee "Scratch" Perry, with Mexico 68 @ Santa Monica Pier
Also known as "The Upsetter" and "Pipecock Jaxxon," the Grammy-winning Perry is, at 78, a living reggae legend. The iconic Rastafarian artist-producer, who co-wrote the protest anthem "Police and Thieves" (famously covered by The Clash), has worked with Bob Marley and the Wailers, the Congos and Max Romeo. With so many songs under his belt, Perry may delve into the slow-motion warped drive of The Upsetters' "Super Ape" or the Marley-esque mellow twang of "Bionic Rats," and might even perform his career-launching single, "People Funny Boy," which rouses like a primal-chorused Cat Stevens track.
Sat., Aug. 30: Pacific Mambo Orchestra @ Burton Chace Park
Winners of this year's Tropical Latin Album Grammy Award, the 19-piece San Francisco band spices things up with a mix of salsa, bolero, cha cha and, of course, mambo. The West Coast's predominant active Latin big band performs in English and Spanish, but also has some French and Portuguese arrows in its quiver.
Thurs., Sept. 11: Charles Bradley, with King James & the Special Men @ Santa Monica Pier
Charles Bradley unleashes an organic R&B funk assault that echoes the funk and soul soundtrack of the 1960s and '70s. Expect to hear "Through the Storm," an aria of gratitude unfurling over a deep gospel groove, from his last album, "Confusion."