April 28, 2017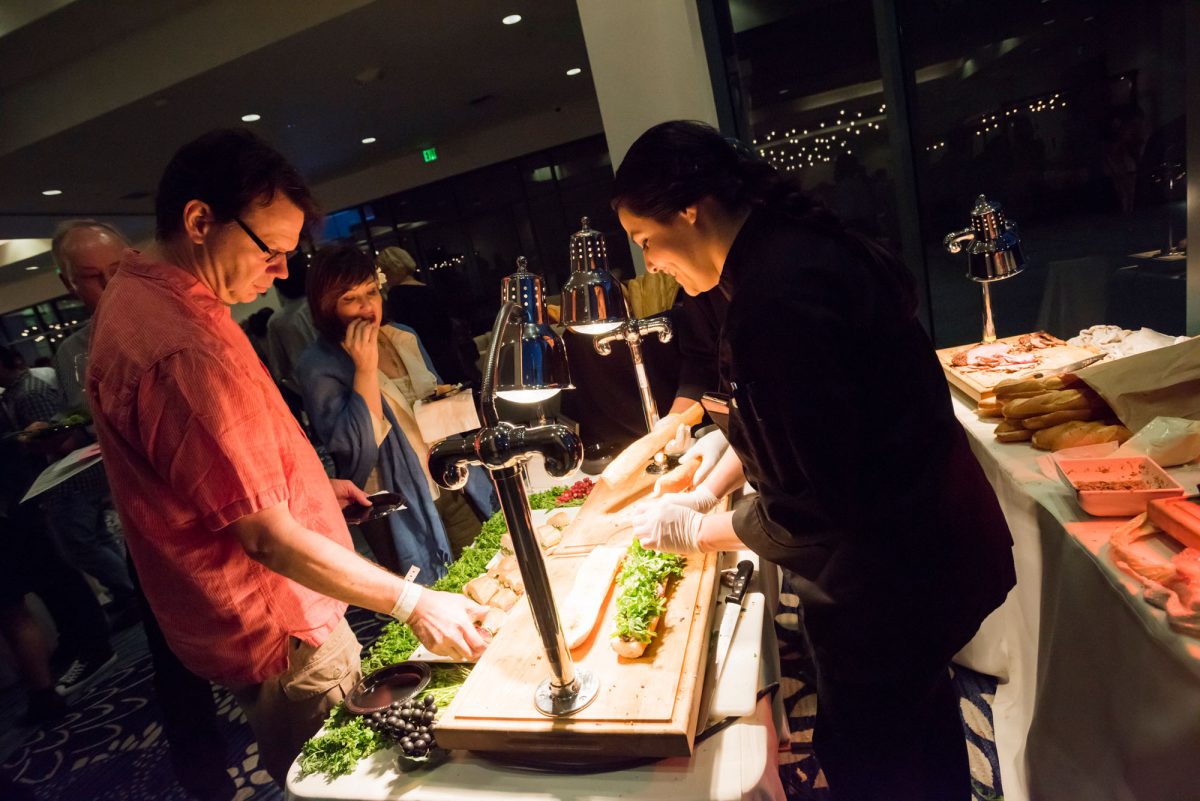 Enjoy a fun night out at the annual Taste of Playa Vista on May 12th! Featuring heavy appetizers from live-action food stations, wine, live music, a fun photo booth and a live/silent auction to benefit Playa Vista Elementary School – there's excitement for everyone. Plus, see what's happening the rest of the month! Residents can buy tickets here.
Resident Forum – Expanding PVES
Tuesday, May 2nd
The Resort
6pm – 8pm
Playa Vista residents are invited to attend a forum hosted by Playa Vista Parks and Land (PVPAL) to discuss the community's interest in expanding Playa Vista Elementary School. Under the Los Angeles Unified School District's One Community/One School plan, the goal is to add capacity so that all families living in Playa Vista can send their children to the school. The expansion of the school would include the area currently occupied by the soccer field in The Sports Park and would require reconfiguration of the park.
Community Yard Sale
Saturday, May 6th
Concert Park
9am – 3pm
It's time again for spring cleaning! Declutter your home and join in the Community Yard Sale. You can also browse through all the items your Silicon Beach neighbors are selling. Please contact Jennifer Kingshott at outdoorgirl9@gmail.com for more details.

Taste of Playa Vista
Friday, May 12th
The CenterPointe Club, Great Room
7pm – 10pm
Spend an evening with your neighbors while supporting our community school! Enjoy a selection of wines that complement the assortment of heavy appetizers from the live action food stations. Live music, a fun photo booth and a live/silent auction to add to the excitement. All proceeds from the auction will benefit Playa Vista Elementary School. Space is limited to 200 residents and tickets are $35 each. For more information or to purchase your ticket, visit PlayaLink.
Fit Expo + Yoga for a Cause
Saturday, May 13th
The Resort Parking Lot
9am – 12pm
Come out for Playa Vista's biggest fitness event of the year! From free workouts (see below), vendor booths and free chair massages to photobooth fun, raffles and food trucks, there's no shortage of fitness and fun!
9am – Yoga for a Cause, supporting HomeAid LA
10am – Hip Hop Dance Party
10:30am – Total Body Burnout
Sign-up for: Hydrostatic Body Fat Testing, The Fittest Man & Woman Challenge and Kids Games with Champ Camp
Cooking Demo: Fun with Herbs
Wednesday, May 17th
2:45pm – 4pm
Corner Greens
Sharpen your kitchen skills with this free cooking demo in the park. Chef Chris Allen of Cooking Camp Kids will show kids how easy it is to cook using a variety of herbs. Class instruction is tailored to kids age 7-14 years, but all ages are welcome to attend. Email Chris to RSVP for this free event.  Space is limited to 30 people.
Campus Dessert Social
Thursday, May 18th
Central Park Bandshell
2pm – 3:30pm
Indulge in sweet treats for an afternoon pick me up. Campus employees will enjoy a variety of desserts and drinks to get you to the end of your day. Sweets available while supplies last. Don't forget to bring your company ID badge.
Speaker Series: 101 on Pet Care & Alternative Medicine
Thursday, May 18th
7pm – 8pm
The Resort Club Room
You love your fur babies so much that you only want to offer them the best care possible. However, with various options and theories on pet care, sometimes making the daily decisions on care can be incredibly stressful. Dr. Helen Chiu, owner of Gentle Veterinary Service (a house acupuncture service), will be sharing her experience on basic pet care and alternative medicine so that you can make the best-informed decisions on how to care for your pets and enjoy the wonderful experience as a pet owner! RSVP for this free event on PlayaLink.
Craft Night
Friday, May 19th
The Resort, Flex Room
7pm – 9pm
Explore your creativity with a fun craft that engages your senses. Join your neighbors and friends as Cherise Rollins of Ispaci takes you through a new and exciting activity.  All supplies will be provided and fun giveaways will take place during the event.  Light snacks and refreshments will be served. No previous craft experience necessary. Space is limited to 12 residents and tickets are $28 each. Sign up on PlayaLink.
Runway Funday
Sunday, May 21st
Runway, Town Center Drive
11am – 4pm
It's all about your health at this Runway Funday. Silicon Beach Parents Group will host a parents' self-defense class while other vendors will provide information on health, wellness and safety.
Surprise Pop-Up
Monday, May 29th
Daily and Beach Shuttles
10am – 2pm
This pop-up is the perfect start to summer. Hop on the Daily and Beach Shuttles for fun giveaways while supplies last.
SPOTLIGHT PROGRAMS AT THE RESORT FOR RESIDENTS
Cycling Class w/ Micaela
Saturday, May 20th
9am – 10 am
Fitness Room
Bring your energy and Micaela will get you moving in this FREE specialty cycling class. Space is limited. Register on PlayaLink.
ACB ABS Challenge!
Join us for the word of the day ABS challenge! Each time you participate you get entered into our raffle to win a prize at the end of the month!  
The Resort Shoe Drive with Soles4Souls
Donate & make an impact the entire month of May! Bring any lightly used shoes that you no longer need into the Fitness Center to give back to those in need.
Tai Chi with Kancho
Drop-in Classes: Wednesday, April 12th – May 31st at 10:30am
Price: $148.00 for the series or $20 per class
Merryland Dance Studio
Offering Baby Ballerina, Prima Ballerina, Fairytale Ballerina, Banging Ballet Body, Kids Hip Hop Jazz Combo & Hip Hop Barre Classes!
8-week, 6-week and 4-week options
*Now offering a 15% off special for PVMG members!  
Mindful Meditation w/ Daisy
New 4-week series starting May 3rd – May 24th
Wednesdays 7:30pm – 9pm
Flex Room
Series Price: $129.99
Come and learn mindful awareness meditation practices that can help you increase your well-being, clarity, improve sleep and focus. Class includes audios and helpful handouts. Meet other smart people in the community who want to live a healthier lifestyle.
OTHER COMMUNITY ACTIVITIES AND EVENTS
Wallis Annenberg PetSpace
Get involved with Wallis Annenberg PetSpace. They are in search of great people who have a love for animals and a passion for helping people and pets. Volunteer opportunities are available beginning in May. Learn more or sign up to volunteer.
Welcome to the Playa Vista Family
It's the little things that bring us the greatest joy! Playa Vista Community Services and Whole Foods want to welcome your newborn baby to the Playa Vista family. If you live in Playa Vista and have had a baby in the last three months, visit PlayaLink. We have a special treat to help welcome all the new experiences, thrills and wonders that parenthood brings.
Neighbor in Need
Life is full of challenges and, as a good neighbor, we understand how stressful that can be. Playa Vista Community Services and Whole Foods will begin accepting "Neighbor in Need" requests. Every month, we will select one request to fulfill. Our goal is to support our neighbors through this tough time. To learn about this community program, please visit PlayaLink.
AARP Financial Seminars: Developing a Savings Plan and Protecting Your Assets
Thursday, May 4th
4pm – 5:30pm
Playa Vista Branch Library
AARP Foundation and Charles Schwab Foundation believe that everyone can benefit from smart money habits. This 90-minute interactive in-person session is designed to help you build habits that can improve your financial situation. This session will give you a good handle on where you stand financially, plus simple, hands-on ways to make measurable progress toward your financial goals.
Astronomy: The Biggest and the Farthest
Monday, May 8th
3:30pm
Playa Vista Branch Library
Astronomy: The Biggest and the Farthest is a lively interactive talk about sizes and distances of the moon, planets, sun, stars and galaxies for school children and adults presented by Richard Wade, M.A. This program helps to demonstrate the vastness of the universe, understand what causes the seasons, and the phases of the moon.
Asian-American Pacific Islander Heritage Month Movie Day – Kurosawa's Dreams
Wednesday, May 10th
5:30pm – 7:30pm
Playa Vista Branch Library
Fans of this award-winning film director will enjoy this screening of Akira Kurosawa's Dreams. This work, done late in his career, unfolds eight mythic vignettes of the director's nighttime visions. 115 minutes. 
Tarot Reading Workshop for Teens
Saturday, May 13th
3pm
Playa Vista Branch Library
A tarot reading workshop for teens, ages 11 and up.
Asian-American Pacific Islander Heritage Month All-Ages Origami
Saturday, May 20th
2pm – 4pm
Playa Vista Branch Library
A fun craft program for all ages with a short introduction to origami and a brief history. We will provide the materials (paper, instructions, books, other crafting supplies). Come have fun and celebrate Asian-American Pacific Islander Heritage Month with us!
Save the Date!
Friday, June 9th – Surprise Pop-Up at Sports Park, 2pm – 5pm
Saturday, June 10th – Yoga for a Cause at Concert Park, 9am – 10am
Sunday, June 18th – Concert in the Park at Concert Park, 5pm – 6:30pm
Friday, June 23rd – Movie in the Park at Central Park Bandshell, 8pm – 10pm
Thursday, June 29th – Campus Concert at Central Park Bandshell, 12pm –  1:30pm
Join our Interest List for news and updates and to be included in upcoming special events. Check back often and be sure to Like us on Facebook to be kept in the loop.