TechZulu – Tech & Entertainment Thrive
June 10, 2014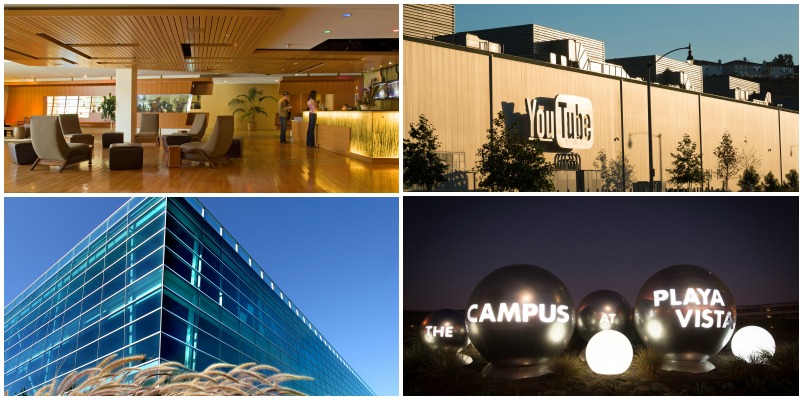 Malibu and Beverly Hills have long been hot neighborhoods for entertainment execs. But the tech culture of Los Angeles is shifting real estate's center of gravity. As the line blurs between tech and entertainment, and as Silicon Valley seeks synergy with L.A.'s creative talent pool, Silicon Beach is the new center for both homes and headquarters.
The real estate dimension of Silicon Beach is part of an undeniable economic force. The Los Angeles Business Journal recently reported data compiled by SoCalTech.com showing that "L.A. tech companies have raised more than $620 million in roughly 50 deals thus far this year," a 78 percent increase over last year and a record for Silicon Beach.
The real estate impact of this activity can probably be traced to the 2011 arrival of Google in the Frank Gehry-designed "binoculars" building on Main Street in Santa Monica. It attracted a tide of high-end homebuyers and renters, including Silicon Valley leaders. According to the Wall Street Journal, these included Ooma founder Andrew Frame purchasing in Bel Air, and Facebook head of market development Matt Jacobson buying in Manhattan Beach. But it was the low-key, creative beach vibe of Venice and Santa Monica that spurred a spate of start-ups to seek offices and homes. TechZulu's own recent Tech Crawl visited several of them, including CallFire, GumGum, NearWoo, SurfAir and ParkMe
In part because there is not much developable or rentable space left in that city, the Santa Monica firms tend to be smaller. It's a different story next door in Playa Vista, where I oversee the marketing of the community for Brookfield Residential, and where The Campus at Playa Vista has room for approximately 3 million square feet of creative offices. One after another, tech and entertainment companies – and hybrids of the two – have taken root here.
Google chose Playa Vista to establish YouTube Space LA, its flagship center for content creation. It is housed in the Hercules Campus – the high-ceilinged, 1940s, former Hughes Aircraft HQ meticulously restored by the Ratkovich Company. YouTube is joined by the SoCal outpost for Facebook. Belkin is also here, as are digital entertainment firms Konami, ICANN, Rovi, as well as Cybercoders and USC Institute for Creative Technologies. And Playa Vista is the future headquarters of IMAX (now under construction), which recently exited Santa Monica for more room. Although not part of Playa Vista proper, Microsoft and TMZ are neighbors, as is Sony Pictures Entertainment, which, like Imax, defected from Santa Monica.
This concentration of digital companies brightens an otherwise lackluster L.A. commercial real estate market. But the residential transformation has been just as strong. Earlier this year, Playa Vista opened the first of its final new neighborhoods. These 2,800 residential units are the largest collection of new homes Los Angeles has seen in many years. They have been quickly embraced by the tech and entertainment community. Executives from Sony Pictures, Disney and Interscope Records are among those who recently purchased homes, joining residents who are executives from Google and 72andSunny, the advertising agency also housed here in Playa Vista. In some cases, these people can walk or bike to work. In West L.A., where there are approximately three jobs for every housing unit, closeness is a major attraction. Since opening in February, 90 of these homes – each over $1 million – have sold.
Another reason the community has become a home base for tech workers is Playa Vista Elementary, the LAUSD "Demonstration School" focused on the STEM curriculum (Science, Technology, Engineering, Math). A model for teaching and learning, in partnership with Loyola Marymount University, the K-5 school enjoys vigorous support from parents, the Playa Vista community and tech firms.
At the high-end of new homes are neighborhoods such as Trevion, where a family home of 3,949 square feet, with 5 bedrooms, 5 ½ baths, 2nd-story lounge, 3rd-story loft and 2-car private garage plus private guest space sells for just over $2 million. The predominantly resale neighborhoods of Venice and Santa Monica also feel the tech boom. Here, prices can climb higher. Pardee Properties, the top agent in the market, recently closed on actress Anjelica Huston's Venice compound. At $11.2 million, it is the highest sale price of the year.
The tech and entertainment real estate boom continues to grow. Reports cited by Los Angeles Business Journal say recent median housing prices in the Beach Cities and the South Bay rose 19.2 percent higher than those of last year.
Altogether, the real-estate dimension of Silicon Beach is a huge positive. As employees and entrepreneurs put down roots close to where they work, more venture capital funds flow in, more start-ups launch, and more of them go public or are sold. It's an exciting time to live and work in Silicon Beach.
The weather's not too bad, either!