Wall Street Journal – LA Office Market
October 28, 2014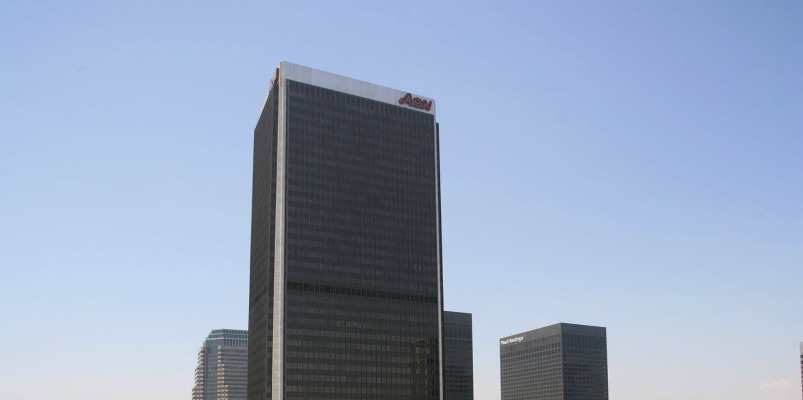 Values for trophy office buildings in large U.S. cities led by New York, San Francisco and Houston have risen sharply in the past few years, due in large part to demand for office space from the technology and energy industries.
Los Angeles, particularly the downtown section of the city, has been a different story.
Consider the recent sale of the Aon Center, the second-tallest tower on the Los Angeles skyline. The 40-year-old, 60-story property sits on the edge of the city's financial district on Wilshire Boulevard.
Earlier this month, San Francisco-based Shorenstein Properties LLC. purchased the building from Beacon Capital Partners of Boston for $269 million, about 18% less than what Beacon Capital paid for the building seven years ago.
Beacon Capital wouldn't discuss why the building lost value, but Arty Maharajh, who tracks the Los Angeles office market for commercial broker Cassidy Turley, says years of rising vacancy rates are a primary cause.
The building is currently about 40% vacant.
When Beacon purchased Aon Center in 2007, "it was well leased up and today it is almost half empty," said Mr. Maharajh, a vice president of research. And pointing to forecasts for downtown Los Angeles office space that show little hope of improved future demand, he adds, "The risk level downtown is DefCon 5."
To be sure, the office market is doing well in some Los Angeles communities. Technology tenants such as Google Inc.'s YouTube, gossip website TMZ and Sony Corp.'s PlayStation have rushed to the Playa Vista neighborhood near the airport, rapidly filling up new developments at fast-rising rents. Low-slung Santa Monica has some of the highest rents in the city, well above downtown, and attracts private-equity firms and other cash-rich tenants.
But downtown Los Angeles, filled with dozens of buildings built in the 1970s to 1980s modeled after New York skyscrapers, generally hasn't been attractive to technology companies, which prefer the flexibility to build from the ground up or rehab old industrial buildings.
Meanwhile, the traditional industries located downtown—finance, legal and accounting firms—continue to scale back and few analysts expect that to change soon.
Paul Habibi, a professor of finance and real estate at UCLA's Anderson Graduate School of Management, estimates that 100,000 square feet of office space has been absorbed downtown this year.
"That's a drop in the bucket.…It's not enough to move the needle and that's in light of the fact that zero new square feet of office space has been delivered downtown," he said.
So why, considering such a grim prognosis, did Shorenstein buy the Aon Center? Shorenstein and several other office landlords and foreign investors that are buying downtown properties are betting that the area is at the start of a transformation. Other recent buyers include Brookfield Property Partners, Overseas Union Ltd. and Commonwealth Partners.
Russell Cooper, who heads acquisitions for Shorenstein in the Western U.S., concedes that the city's downtown office market has been weak. But his firm is betting that demand for downtown office space will increase in the future as the area becomes a more attractive place to live, which eventually will encourage employers to relocate there, too.
In September, condo prices were 14% higher than a year earlier, exceeding by two percentage points the rate of growth in San Francisco, according to real-estate research and marketing firm the Mark Co., which notes that 3,700 new rental units are under construction.
Mr. Cooper said downtown's growing residential population, its burgeoning night-life scene and the city's rapidly expanding subway and light-rail lines are creating more interest from employers such as architecture and engineering firms, including tenants currently on L.A.'s Westside.
"Tenants are looking to move downtown because it's a good place…for employees," he said. "And while the building is older, it lends itself to smaller users."
Cassidy Turley's Mr. Maharajh isn't convinced. He believes the downtown office market won't improve soon and that many buyers of skyscrapers, which include foreign investors who believe they have found bargains, will be disappointed.
In any event, Shorenstein isn't solely focused on one high-rise office tower. Reflecting the company's increasing shift into the more tech- and creative-focused markets, Shorenstein purchased a mostly vacant former manufacturing building in the city's downtown Arts District in March, and it is part owner of a former postal distribution center in Playa Vista, a popular new hub for tech companies on the Westside.