July 30, 2019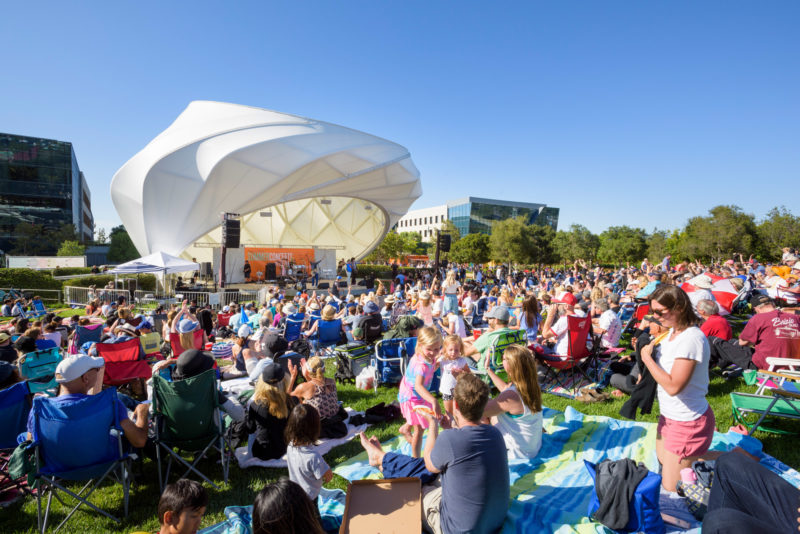 Community Events
Playa Vista Farmers' Market
Saturdays
Millennium Dr. between McConnell & Village
9am – 2pm
Enjoy a diverse assortment of California-grown fruits, vegetables and flowers, along with a variety of local artisan foods! Market is open rain or shine.
Yoga for a Cause
Saturdays – August 10th, 17th, 24th & 31st
Concert Park
9am – 10am
Find your zen and feel energized while supporting a worthy cause. During yoga, make a monetary donation in support of HomeAid Los Angeles. All proceeds will help provide shelter for the more than 58,000 homeless in LA. Don't forget to bring your yoga mat and water!
Movie in the Park: Jumanji: Welcome to the Jungle
Friday, August 2nd
Concert Park
8pm – 10pm
Final movie of the summer! Four high school kids discover an old video game and are drawn into the game's jungle setting, literally becoming adult avatars. What they discover is that you don't just play Jumanji – you must survive it to beat the game and return to the real world! Enjoy a variety of gourmet food truck eats from 6 to 9pm.
Concert in the Park: Woodstock Tribute Band
Sunday, August 11th
Central Park Bandshell
5pm – 6:30pm
Final concert of the summer! The Age of Aquarius dawned at Yasgur's farm in Bethel, New York on August 15, 1969. The songs from Janis Joplin, Carlos Santana, David Crosby, Jimi Hendrix and The Who will transport you back to the most famous concert of all time. Grab some gourmet food truck eats from 4 to 7pm.
Campus Brunch & Coffee
Thursday, August 29th
Central Park Bandshell
9am – 10:30am
Join your Campus colleagues for a delicious brunch! Campus employees are invited to join us for a hearty brunch and coffee, offering an assortment of breakfast bites, fruit and coffee. Don't forget your company ID badge!
The Resort/Elevation Fitness
Massage Pop-Up!
Friday, August 2nd, Sunday, August 4th & Monday, August 5th
The Resort Fitness Center
Hours Vary
Randi Kofsky, CMT massage therapist, will be stopping by The Resort to give our residents free 25-minute sessions! Learn more via PlayaLink!
National Water Quality Month
August 5th – 11th
The Resort
As summer heats up, be sure to keep yourself hydrated and participate in our Water Drinking Challenge. Each participant who logs 64 ounces of water daily for the week on our in-gym leaderboard will be entered to win a hydration raffle goodie. Learn more via PlayaLink!
Golf Strength & Swing Specialty Class
Saturday, August 17th
8am – 8:50am
The Resort Fitness Center
Join our training staff for a specialty golf strength and swing class sure to help improve the power and fluidity of your swing. All skill levels welcome! Sign up via PlayaLink!
American Dance Week
Monday, August 19th through Sunday, August 25th
The Resort Fitness Center
9am
To celebrate American Dance week, we are offering a variety of dance specialty classes all week long! Some of our favorite instructors will be back for PlyoJam, Pound and Dance Out Of The Box classes! Learn more via PlayaLink!
Free Fitness Assessments
We offer free fitness assessments for anyone who wants to get a baseline of their fitness level, including flexibility, body fat, core strength, mobility and cardiovascular endurance. Learn more via PlayaLink!
Run Club
Wednesdays
The Pointe
6:30pm
Did you know that we have a weekly Wednesday night run club? It's the perfect time (and weather) to get started! Walkers, joggers and runners are all welcome! Meet us every Wednesday at The Pointe park at 6:30pm. We'll do a three-miler around the community, followed by free pizza and refreshments from Whole Foods Market! Learn more via PlayaLink!