Bisnow – LA's Hottest Development 2.0
January 27, 2014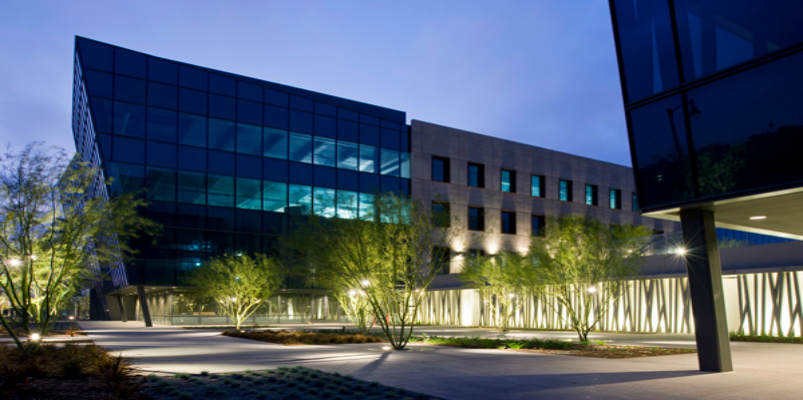 Now, here's an amazing story about how fast things are changing in Playa Vista. An extraordinary office building, delivered in 2010 by Lincoln and ASB Capital, which just four years ago would have been considered state-of-the-art, is about to undergo dramatic re-design to become the latest word on creative office. Your publisher paid a visit.
It's in the epicenter of the neighborhood, across the street from Hercules(see last week's Part 2), and called Latitude 34 (though technically it's Latitude 33.97). Tenant demand has changed so much recently that Lincoln has engaged Gensler to transform key elements.
Lincoln's Kent Handleman points out things they're about to do: build stairways to the upper floors directly from the courtyard; replace first floor windows with cooler garage doors; add undulation to the exterior, giant planters, cabanas, lush plantings, awnings over outdoor tables, bigger-than-life objects of art—in short, create the brightly colored, playful atmosphere that gives the area an urban campus feeling. And keep the incredible views from the offices of the city, mountains, and sea.
It may look more like the Grove or Runway than any suburban office park. And Kent says it will have the best of both worlds: not only the newly fashionable open and creative space, but the efficiency and LEED standards of a recently built structure as opposed to a retrofitted old loft or warehouse.
Lincoln and ASB built the complex in the foreground; in the background are Hercules and the Spruce Goose hangar. The buildings on the left were rented to Fox, which planned to make it My Space headquarters—until that division evaporated as users migrated to Facebook. The 500k SF has now been subleased to Fox Sports, CPK corporate HQ, Rovi, Gehry Technologies, and Rubicon, among others; and the building sold to JP Morgan a year and a half ago (for $600 a foot).
Phrasemakers are calling this area LA's "Lower West Side" (also including Marina del Rey and maybe El Segundo), and above Kent points to commute times. For example, it takes the same time to get to Playa Vista as to Santa Monica if you're coming from Sherman Oaks or Beverly Hills; and 20 minutes less from Manhattan Beach. Kent also points out it's equidistant to both Venice and South Bay, and just one mile to Playa del Rey (otherwise known as the beach).
Brookfield Residential planning and entitlements VP Marc Huffman has been involved in the Playa Vista project for 15 years, as his firm is not only currently building there (luxury family homes and "beachy brownstones"), but is master developer for the whole area. The process of design review, and regulatory decisions about wetlands west of Lincoln, took many years. But today Phase 1 has been a big success and sales for Phase 2 open on February 22.
When we toured the other day, finishing touches were being put on these large new homes. Nearby is "The Resort," a sprawling community center, from which a 30-foot wide, lushly planted path along Millennium Drive (the main boulevard through the development) will course its way to the sports fields already in operation adjacent to Latitude 34.
Up Jefferson, beyond the longtime Home Depot, is 12777 Jefferson, owned by Ned Fox's Vantage, for which Gensler did a major recent renovation. An 8-story 12655 Jefferson was bought recently by Highbrook but is expected to go back onto the market; and 90k SF 12555 Jefferson was recently sold by Lincoln to Ocean West Partners.
The pioneering Water's Edge building at Lincoln and Jefferson that you see on your way to LAX is still owned by Rob Maguire, but is for sale; tenants include Electronic Arts, LA Fitness and TV Guide.
Tishman Speyer developed these four buildings on Waterfront Drive in '07, leased them to Belkin, Facebook, USC and Icann, then this spring sold them to Hines for $218M, or $671 a foot—which shows you how prices are rising.
But more is in store for Playa Vista: Tishman still has 600k SF entitled on which it's planning 200k SF of spec creative low-rise; its leasing guru John Ollen is scoping out tenants for a potential two to four buildings. Lincoln has13 acres called "Parcel 10," at the SW corner of Millennium and Campus Drive, that can support 900k SF of build-to-suit. And now that Ratkovich has completed the restoration of its east and south campuses, it's turning attention to its west campus to determine the future of the huge and historic Spruce Goose hangar.
Playa Vista is such an important, fascinating, and ongoing story, we are excited to be hosting a major event on it, in Playa Vista on the morning of Feb 19, featuring the top players involved. It will be a memorable event, and we'd love to see you. More info here.