Argonaut – Bringing the Outdoors In
August 13, 2014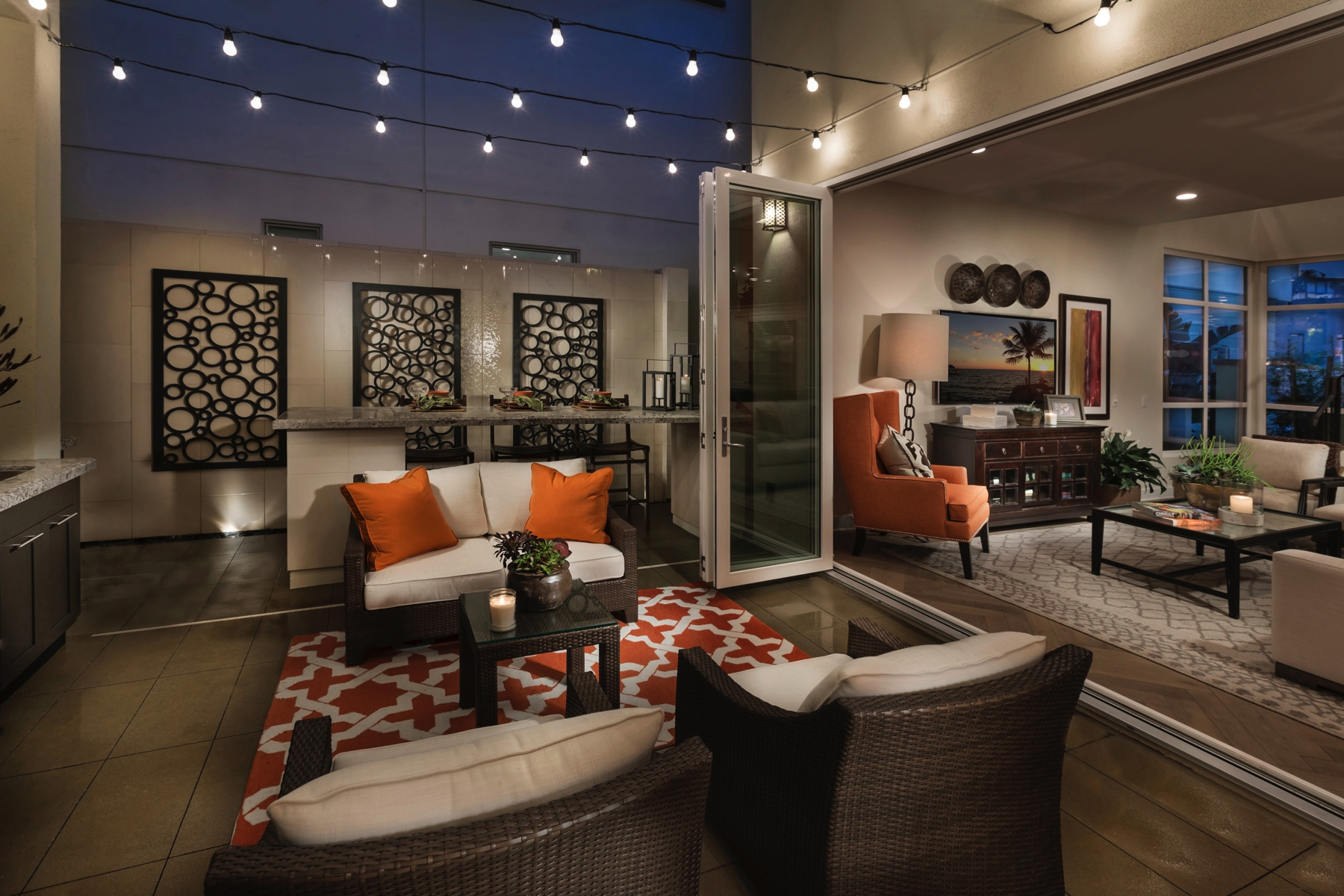 Playa Vista's new Trevion homes gracefully blend indoor living area and private outdoor space
Playa Vista master developer Brookfield Residential's luxury Trevion homes offer plenty of curb appeal, but the view from inside — a seamless transition from living area to private outdoor courtyard, separated only by a retractable glass door — is perhaps even more remarkable.
With most homes, the interior function of the house stops where the yard begins.
But for Trevion, project design architect Hans Anderle, a Southern California native, drew inspiration from Spanish and coastal contemporary styles to make maximum use of urban-compact outdoor spaces as an integral part of the living-area footprint.
The Pacific Coast Builders Conference recently honored Trevion as the Best Single Family Detached Home of the Year, part of a run of awards for Playa Vista's current phase of development that included top honors for Best on-the-Boards sight plan.
Anderle, with the architecture firm Bassenian Lagoni for 22 years, spoke about some of his inspirations for Trevion's design.
How can owners of traditional single-family homes better utilize their outdoor spaces?
One thing you want to ask is: What is the relationship of your living area and your kitchen area to your yard? If you were to re-lay out your kitchen without necessarily tearing down walls, make sure the kitchen is open and that it orients to the yard. One of the best ways to do that is to create a large island, and if you're going to put plumbing on that island — meaning your sink — it should be oriented toward your living space, which then orients toward your yard space.
What about furnishings?
You want to make sure the way you furnish and place your seating is comfortable and makes sense in the way you circulate through the space or to the space. The reality is your big-screen TV takes the place of the fireplace as the focal point in that living area, so I think it has to be positioned so you can take advantage of that.
Everything seems to start with the kitchen, no?
The kitchen has to function, but it also has to feel like it could be another entertaining zone. It's not like you're only going to cook there; you're going to entertain there. It's going to be the central hub — command central, the place where the kids do homework, or the place where you're going to set out the hors d'oeuvres for your party. So that has to be something that's impressive. I think that can be achieved not by necessarily dedicating a lot of space to it, but by using the space you do have wisely. Make sure it's efficient.
There's also the relationship to everyday living. [With Trevion], there's a connection to the garage that we take advantage of. It becomes kind of a staging area, a California mudroom, an area where you can drop off [groceries] in your walk-in pantry. So what would be your normal hallway or circulation area from your garage to your kitchen, we play that up and use it for storage — almost like a showcase for storage.
What bad design features do you see most often in traditional single-family houses?
Sometimes you have walls that shut off the home and make it feel a lot smaller than it really is. And you can't stress enough how well the house has to furnish. While there may be several ways to furnish a space, if it is furnished well that optimizes how you live in the home and just how it feels. Especially if you have an outdoor yard and you are literally turning your back to it, I don't think that's successful.