Argonaut – Building New Angeles
March 12, 2014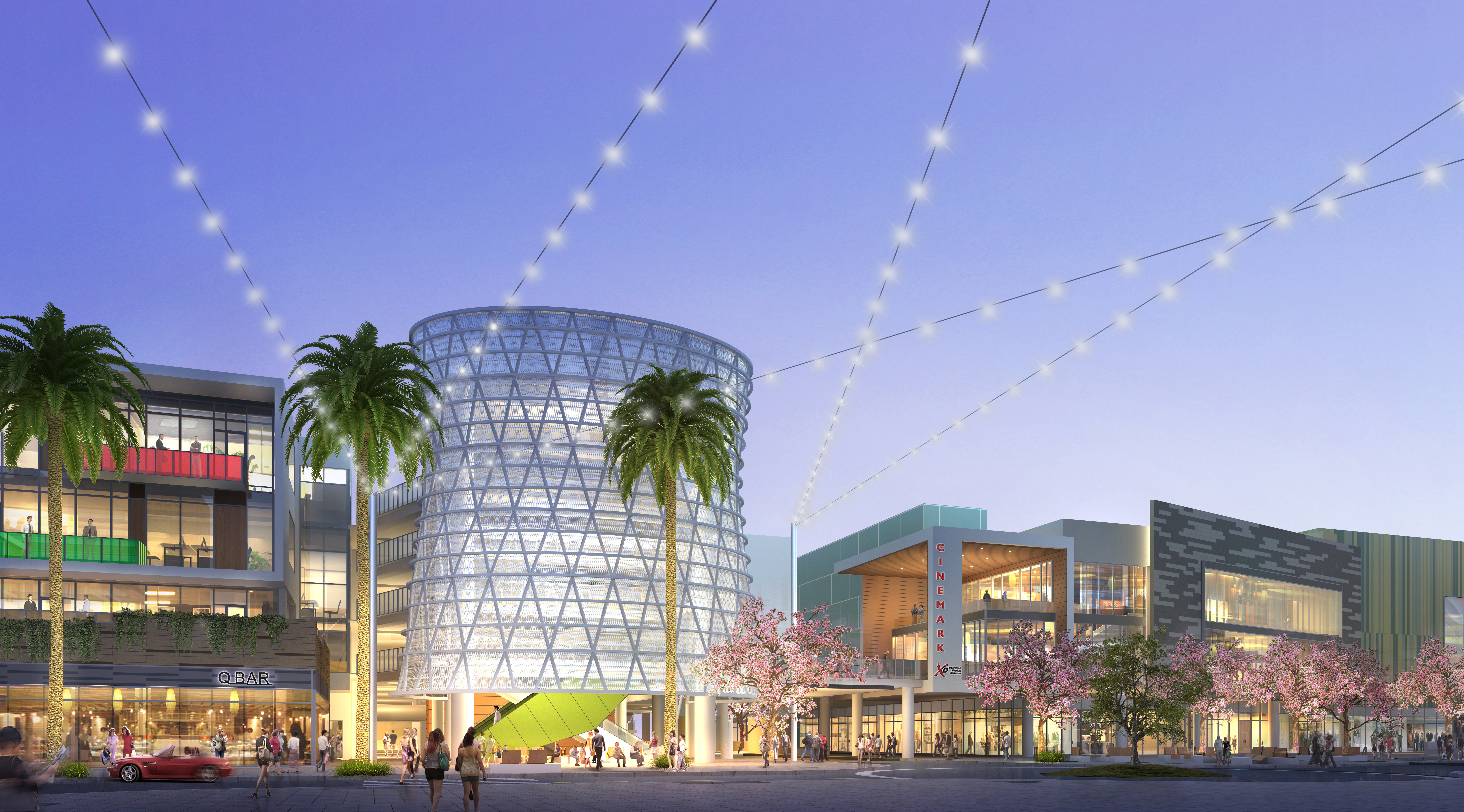 We live in an age of rethinking.
Information arrives not in mailboxes, but through cell phones. Rideshare apps are replacing taxi meters. Currency is becoming digitized. Consumers with an ever-expanding global reach are instead demanding their food be grown locally.
With its campus-style reinterpretation of the traditional office park, recasting of dense urban housing as Norman Rockwell suburb and plans for a pedestrian-friendly regional entertainment and retail complex to connect the two, Playa Vista is rethinking the way Westsiders live, work and play.
Whether you see its 460-acre, city-within-a-city footprint as an ordered oasis among the chaos of a sprawling metropolis or a plastic reproduction of organic urban life — locals and critics have argued both ways — Playa Vista's rise from the once desolate former Howard Hughes airstrip along Jefferson Boulevard has yielded a windfall of high-demand commercial and residential real estate in an area erupting with growth.
"This is probably the most sought-after land in America — the west side of Los Angeles at a moment when entertainment is coming back, when technology is soaring," Los Angeles Mayor Eric Garcetti told The Argonaut during the Feb. 27 groundbreaking ceremony for IMAX Corp.'s $45-million West Coast headquarters being built in Playa Vista….
Playa Vista, by the numbers:
Between 6,500 and 7,000 current residents
Housing under construction will add another 6,000 residents,
for a total of about 13,000 people in just a few years
47 Playa Vista's 460 acres will remain green space
The 11-acre, $260-million Runway complex will create
220,000 square feet of new shops and restaurants
Following public remarks that linked Playa Vista with his vision of a can-do Los Angeles on the rebound, Garcetti said Playa Vista's "incredible geography, incredible history and incredible terrain" are a recipe for success.
"I think people like the idea of a livable community that's also a wonderful place to work," Garcetti said.
Five days earlier, models of the first homes for sale in Playa Vista's second phase of development made their public debut — dozens of two- and three-story detached residences in both modern and luxury styles, each priced from roughly $1-million to $2-million range and enough to fill a city block.
Next door and nearing completion this summer is The Resort, a 25,000-square-foot glass and steel fitness and event center for phase two residents.
The first phase of Playa Vista, substantially completed in 2008, raised some 3,200 condominiums, apartments and townhomes along a half-mile stretch of Jefferson from Beethoven Street to Lincoln Boulevard. In addition to a small grocery store, weekly farmers market and a cluster of storefronts wrapped around the block-sized Concert Park (one of more than a dozen parks), residents also have their own Los Angeles Public Library branch, fire station, community recreation center and public elementary school.
Playa Vista's next phase will add another 2,600 single-family homes or apartments and 200 senior living units to the mix, said Marc Huffman, vice president of planning and entitlements for Playa Vista master developer Brookfield Residential. The successor to previous master developer Playa Capital, Brookfield plans and oversees construction by other firms but is also building homes.
About 420 of the new homes slated for construction over the next three to five years are part of Runway at Playa Vista — a $260-million, 11-acre retail/entertainment keystone linking the residential neighborhoods of Playa Vista to its creative offices campus and the rest of West Los Angeles.
On tap for Runway's 220,000-plus square feet of retail are a full-size Whole Foods Market (facing Jefferson), a nine-screen Cinemark movie theater with its own restaurant and bar, a CVS Pharmacy, two bank branches and new locations for Veggie Grill, SOL Cocina, LYFE Kitchen and Panini Café. Unannounced occupants will account for another 50% of available space, said Brookfield spokeswoman Emily Heidt.
"From the commercial perspective, we're trying to become the poster child for Playa Vista and really be responsive to Playa Vista's needs and the surrounding area's as well. You really have a brand new city that's being created down here," said David Binswanger, executive vice president of Runway developer Lincoln Property Co.
Binswanger said Runway will aim to create an experience that blends the outdoor mall setting of The Grove with a hip, urban feel inspired by Abbot Kinney Boulevard in Venice.
"Abbot Kinney was being called the coolest street in the United States, so we decided to study what it is about it that's cool. It attracts the millennial crowd, but it's also where their parents want to shop, and it does that in an organic way that attracts in with nightlife," Binswanger said.
Runway is expected to include 12 outdoor fireplaces to anchor sheltered visitor gathering areas, site-specific public art sculptures and outdoor seating at most if not all restaurants. To split the difference of Abbot Kinney's busy thoroughfare and developer Rick Caruso's pedestrian-only promenade, visitors will drive into Runway along a cobblestone street that winds between large heritage trees "to give the impression this retail center was built around those trees," he said.
As part of Brookfield's master plan, a 30-foot wide park called The Link extends behind Runway eastward from the resort all the way into the creative office space campus, connecting with several other open space areas along the way.
"I think concentrating on the human experience is the most important part of development," Binswanger said. "We're going to be fanatical about what you experience."
For many current Playa Vista residents and prospective phase two homebuyers, Runway completes the promise of a truly walkable neighborhood.
"We love the access to everything. On the weekends, we barely get in a car," said Matt Spencer, who has lived in Playa Vista with his wife for two and a half years. The 33-year-old investment banker hopes to buy a home in Playa Vista's second phase now that the couple has a 15-month-old son.
"It doesn't feel quite like back home, but there are people on the sidewalk saying hello to each other, out walking dogs and pushing baby carriages," the Nashville native said.
A mother of twin 8-year-old boys, Carla Fansmith and her husband bought a Playa Vista condo six years ago, attracted by the nearness of parks and other amenities.
"The appeal is it's clean, it's safe, there's a lot of open space," Fansmith, 45, said last month during a Sunday visit to Concert Park, which was packed with dozens of young families. "I can park my car on Friday after that long drive and not have to get into it until Monday morning."
Shane Reed, 31, is renting in Playa Vista and hopes to buy.
"We used to live at Fifth and Santa Monica, right in the heart of the city," the movie post-production colorist and computer programmer said while out for a walk with his seven-month-old son. "But this little guy was coming along, and this is such a family-friendly community."
Children, it seems, are everywhere in Playa Vista — but it wasn't always this way, said Brookfield Residential Marketing Director Alison Banks.
With its high density of mostly one- or two-bedroom apartments and condos, Playa Vista's original tenants were mostly singles. Then they got married. Then they had babies. And to Brookfield's surprise, most of these new families wanted to stay.
"We thought Playa Vista could be a stop in their housing journey. Instead we found people wanted a forever home," Banks said.
The original plans for phase two housing initially called for a lot of higher-density condominium buildings, she said, but Brookfield shifted the focus to single-family homes as the housing market recovered and "to respond to what our market was telling us."
Changing plans have dominated other facets of the Playa Vista story, Huffman said.
Following the death of Howard Hughes in 1976, heirs to the Hughes fortune sought a much different development for the airfield that birthed the Spruce Goose — high rise offices and a conventional shopping mall, plans that triggered a series of environmental lawsuits following their approval in 1985. Settlements recast the project as a residential enclave surrounding a shopping mall and resulted in the 2003 sale to the state of 600 acres that became the Ballona wetlands preserve.
Plans made in the mid-1990s for an "entertainment media and technology district" initially envisioned DreamWorks Animation as an anchor tenant, but the deal fell through.
Instead, Silicon Beach came knocking.
With seven sound stages and 10 production suites, the 41,000 square-foot YouTube Space Los Angeles occupies one of 11 renovated Hughes airfield buildings within the much larger footprint of Playa Vista's creative office space park, dubbed The Campus.
Also on The Campus are offices for social media giant Facebook, web operations for Fox Interactive Media, video game makers Konami, USC and UCLA technology research centers, advertising agencies, consumer electronics and even the Internet governing body ICANN.
"Playa Vista is one of the places we believed more and more technology and innovative media companies were planting a flag on. It's the new frontier for Los Angeles, and we believe that trend is going to continue," said Liam Collins, head of YouTube Space Los Angeles.
YouTube arrived in November 2012. The facility provides resources to help YouTube content creators optimize their use of the video-sharing website.
"We wanted to take away impediments to someone trying out an ambitious new idea with the platform," Collins said. "It's intended to be a resource for the creative community. I think of us as a crossroads for creative people to come together."
Fifteen years ago, when Playa Vista was still basically an open field, it was difficult to imagine the place as a center for cutting-edge ideas.
"This was business Siberia," Deutsch L.A. CEO Mike Sheldon said of moving the advertising agency from Santa Monica to across the street from what would become Playa Vista in 1998, during a period of rapid expansion for the company. Deutsch L.A. first arrived at a former pharmaceutical building that has since been replaced by the Home Depot at Jefferson and Alla Road. The agency soon moved a block east to its current location at Jefferson and Beethoven Street, the 90,000-square-foot former home of the Southern California Institute of Architecture.
"At the time, nobody thought of this as a sort of legitimate business area," Sheldon said. "What we were attracted to was being on the Westside without the Westside pricing. … Really, it was a great happy accident to be able to find something on this side of town."
A similar dynamic to what drew Deutsch L.A. to the area remains in play: namely the presence of large-scale, customizable office buildings that lease for far less than equivalent spaces in more established Westside areas — that is, if you can find them, said veteran commercial real estate broker Carl Muhlstein.
Muhlstein, managing director at Jones Lang LaSalle and formerly a vice chairman at Cushman & Wakefield, was the original creative office space broker for Playa Capital.
He's also been a leasing agent for The Reserve — a 370,000-square-foot former U.S. Postal Service distribution center across from Playa Vista that was recently converted into a creative office space campus. The Reserve opened in May 2013 with its first tenant, the entertainment media giant TMZ, and welcomed Microsoft in September.
Shortly before IMAX announced it would leave behind its outgrown Santa Monica offices for its new Playa Vista headquarters, Sony Computer Entertainment's video game-making Santa Monica Studio announced it would relocate next year to The Reserve.
"I think Santa Monica is peaking based on its own success and its barriers to entry," said Muhlstein. "With single-digit vacancy, there's virtually no expansion possibilities for the bigger uses, and these are all growth companies. That has also caused rental rates to exceed 2007 peaks, so it's getting very expensive."
Muhlstein also said pushback against further development in Santa Monica — including calls for a ballot referendum to overturn city approval of the planned Hines light rail transit village near Bergamot Station, which would create some 375,000 square feet of office space — means "nobody knows what can be built or when."
Sheldon is worried the rapid growth of Playa Vista and its surrounding areas will bring increased traffic congestion.
"I'm curious what all this will look like 10 years from now, when Playa Vista is built out," Sheldon said. "Unless we get some sort of flying Jetsons space cars, we could be in trouble around here."
But for now, as Deutsch L.A. continues its expansion into web development services, there's a big advantage to being where the action is.
"We're trading employees with Facebook, Google and other ad agencies. We almost joke that there's an underground tunnel that runs from one to the next," Sheldon said.
IMAX CEO Richard Gelfond said his company's increasing emphasis on digital delivery systems makes its coming West Coast headquarters a great fit among Playa Vista's Silicon Beach crowd.
"There were two reasons for Playa Vista. We needed green-field space where we could construct our own building — we're constructing two [private] full-sized IMAX theaters, and you can't find that in an office building," Gelfond said.
"The other thing is we like the community around here," Gelfond continued. "There are companies in the content business, like YouTube and Electronic Arts, and also companies in the technology business, like Google. We like the vibe of being in an area where people are creative. That's a good thing."
joe@argonautnews.com