February 28, 2017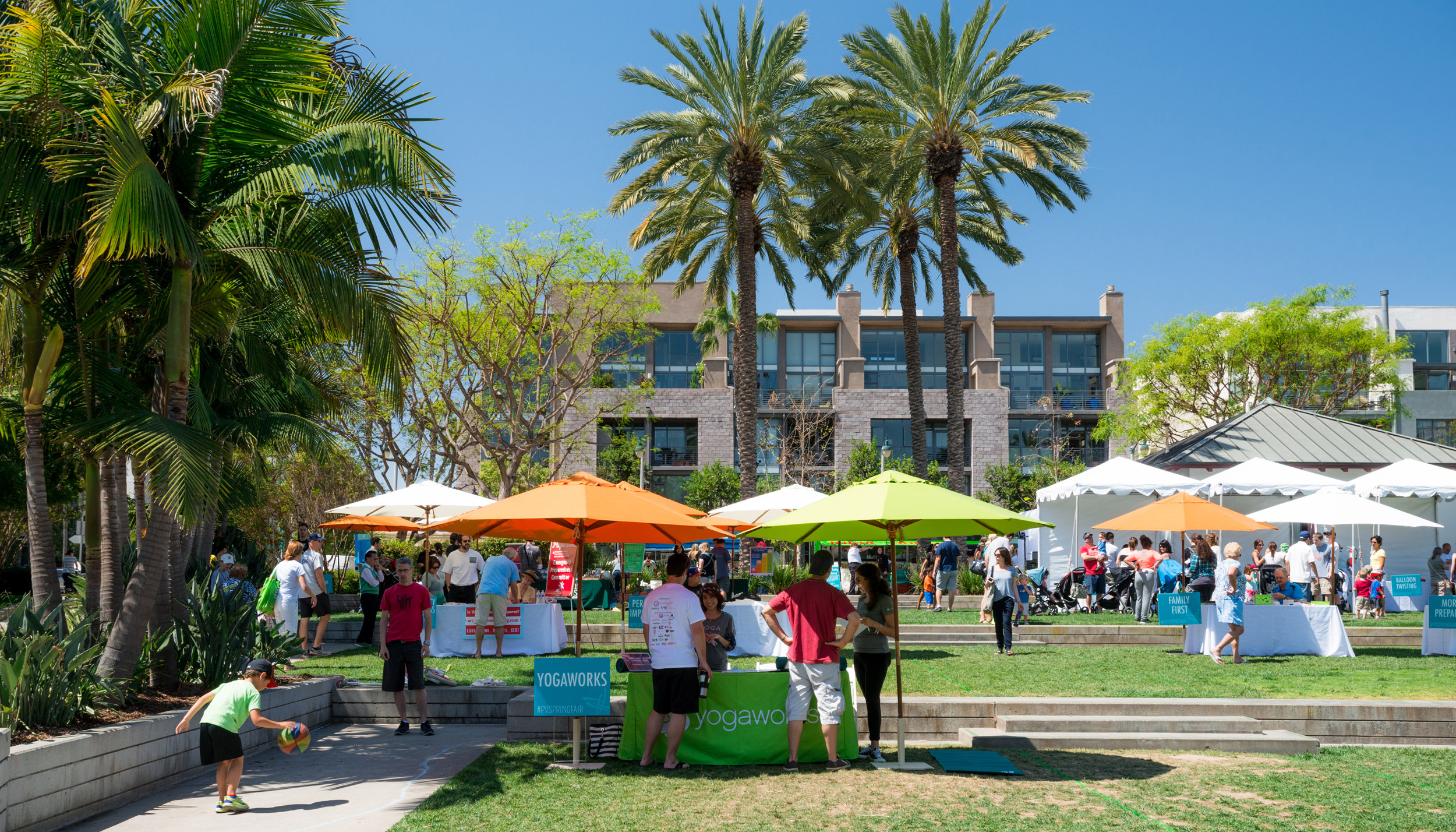 Join us this Saturday, March 4th for our annual and freshly updated Spring Fair and see what else is coming up this month.
Spring Fair
Concert Park
Saturday, March 4th
11am – 2pm
Fill your Saturday with some fun! Playa Vista Community Services (PVCS) and the Fineman Suarez Team are excited to come together for a great celebration featuring music, games, activities and more. A free In-N-Out lunch will be provided, courtesy of the Fineman Suarez Team. RSVP at www.PVSpringFair.com to reserve your lunch. Sign up early as burgers are only available while supplies last.
Taste of Sunrise
Tuesday, March 7th
Sunrise Senior Living of Playa Vista
7:30am – 9:30am
Chef Adrian invites you to breakfast with made-to-order gourmet omelets. While you're here, tour our beautiful community and learn more about life at Sunrise. RSVP here to attend the event.
Yoga for a Cause
Saturday, March 11th
Concert Park
9am – 10am
Find your Zen and feel energized with free Yoga in the Park, supporting a worthy cause. During yoga, you can make a monetary donation in support of Culver Palms Meals on Wheels. All proceeds will help provide nutritious meals to homebound seniors living in or around our community. Don't forget to bring your yoga mat and water!
The Campus St. Patrick's Day Celebration
Friday, March 17th
Central Park Bandshell
12pm – 1:30pm
Get your Irish on at The Campus St. Patrick's Day Celebration. From a traditional Irish lunch to music that will make you want to do the jig, you'll feel lucky that you work in Playa Vista! Make sure to bring your company ID badge. Lunch available while supplies last.
Surprise Pop-Up
Saturday, March 25th
6pm – 9pm
The Lawn
Have you explored Playa Vista at night? Start your adventure through The Lawn, which will have something fun that will make you want to move.
Migration Celebration at Ballona Discovery Park
Saturday, April 1st
Ballona Discovery Park
9am – 3pm
Join us for professionally guided birding tours while enjoying a neighborhood brunch block party with family activities and Marsh Mimosas! For more information, check out Friends of Ballona Wetlands.
Save the Date!
Saturday, April 8th – Yoga for a Cause at Concert Park from 9am to 10am
Saturday, April 8th – Kite Festival at the Santa Monica Pier from 11am to 4pm
Saturday, April 22nd – Kids Night at The Resort from 4:30pm to 8:30pm
Saturday, April 22nd – Surprise Pop-Up at Bluff Creek Fields from 12pm to 2pm (Hint: Your pup will enjoy being pampered.)
Thursday, April 27th – The Campus Bagels & Brew at Central Park Bandshell from 9am to 10:30am
SPOTLIGHT PROGRAMS AT THE RESORT FOR RESIDENTS
Kids Night
Saturday, March 18th
The Resort
4:30pm – 8:30pm
Ages: 3 – 14 yrs. (child MUST be potty-trained)
Price: One Child: $49 / Two Children: $68 / Three Children: $78
The Champ Camp team will provide your kids with an outrageously good time. Between learning teamwork skills to building a fort, indoor group games, a scrumptious locally sourced dinner, snack and a movie, your little champ's Saturday night will be full of excitement. You can enjoy an early date night at Runway while the kids have their own fun! 
Tai Chi with Kancho
Drop-in classes: Wednesday, March 8th, 15th & 22nd at 10:30am
Price: $20 per class
New 8-week series: Wednesday, April 12th – May 31st at 10:30am
Price: $148.00 for the series or $20 per class
Mindful Meditation w/ Daisy – New 4-week Series!
Wednesday, March 8th – April 5th
6:30pm – 8pm
Price: $129.99
Mindful Awareness Meditation for Health and Well-Being is a 4-week class designed to help anyone develop their sense of calm and wellness. Participants will learn about the scientific research that is now clearly showing the health benefits of mindfulness as well as mindful awareness meditation and a variety of other practices such as mindful eating, walking meditation and valuable compassion practices. Useful handouts and audios will be offered to support participants as they learn and bring these practices into their daily lives.
Fit4Baby Free Demos
Sunday, March 5th at 9:30am & 6pm
Fit4Baby is a fitness class exclusively for expecting mamas. Come and enjoy an hour to focus on you and your baby! Our instructors are certified in prenatal fitness and will lead you through a workout that is safe and effective in building the strength you need for motherhood!
Merryland Dance Studio
New 10-week series starting on March 22nd
Offering Baby Ballerina, Prima Ballerina, Fairytale Ballerina, Banging Ballet Body, Kids Hip Hop Jazz Combo & Hip Hop Barre!
10-week series – $200.00
*Now offering a 15% off special for PVMG members!  
Sweat & Refresh – Specialty Series
Saturday, March 25th from 9am – 11am
$15 per person
50-min workout followed by a 1-hour workshop discussing health and wellness topics. This month, Jenny will lead you through a fun yet challenging high-intensity, circuit-style class using ropes, gliders, weights and more. It will help you blast fat and burn major calories. After, enjoy refreshments from WANU Water while you learn detoxifying tips to shape up for summer from Nutrition Coach, Adrianne! Spots are limited so sign up today under Premium Programs via The Resort website on PlayaLink.

Playa Vista Walking Tours
Every Saturday and Sunday
Playa Vista Welcome Center
11am
Here's your chance to experience Playa Vista like an insider. Get to know and explore Playa Vista on an hour-long guided walking tour.
Welcome to the Playa Vista Family
It's the little things that bring us the greatest joy! Playa Vista Community Services (PVCS) and Whole Foods want to welcome your newborn baby to the Playa Vista family. If you live in Playa Vista and have had a baby in the last three months, visit PlayaLink. We have a special treat to help welcome all the new experiences, thrills and wonders that parenthood brings.
Neighbor in Need
Life is full of challenges and, as a good neighbor, we understand how stressful that can be. Playa Vista Community Services (PVCS) and Whole Foods will begin accepting "Neighbor in Need" requests. Every month, we will select one request to fulfill. Our goal is to support our neighbors through tough times. To learn about this community program, please visit PlayaLink.
Join our Interest List for news and updates and to be included in upcoming special events. Check back often and be sure to Like us on Facebook to be kept in the loop.