May 29, 2019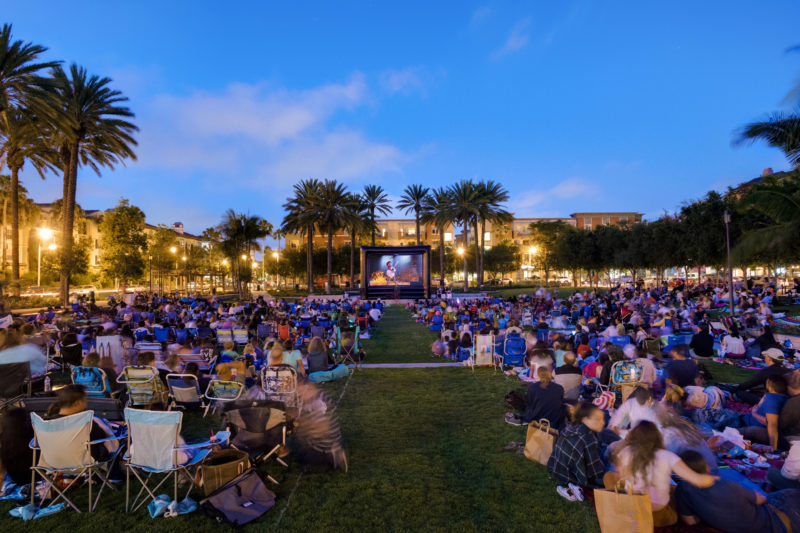 Community Events
Playa Vista Farmers' Market
Saturdays
Millennium Dr. between McConnell & Village
9am – 2pm
Rain or shine, enjoy a diverse assortment of California grown fruits, vegetables and flowers along with a variety of local artisanal foods!
Yoga for a Cause
Saturdays – June 8th, 15th, 22nd & 29th
Concert Park
9am – 10am
Find your zen and feel energized while supporting a worthy cause. During yoga, make a monetary donation in support of HomeAid Los Angeles. All proceeds will help provide shelter for the more than 54,000 homeless in LA. Don't forget to bring your yoga mat and water!
Movie in the Park: Green Book
Friday, June 21st
Central Park Bandshell
8pm – 10pm
Dr. Shirley is a world-class African American pianist, who is about to embark on a concert tour in the Deep South in 1962. In need of a driver and protection, Shirley recruits Tony Lip, a tough-talking bouncer from an Italian American neighborhood in the Bronx. Despite their differences, the two men soon develop an unexpected bond while confronting racism and danger in an era of segregation. Enjoy a variety of gourmet food truck eats from 6 – 9pm.
Concert in the Park: Blue Breeze
Sunday, June 23rd
Concert Park
5pm – 6:30pm
Soul, Funk and R&B blend to touch your heart and get you dancing. Come celebrate the 60th anniversary of Motown as they cover Stevie Wonder, The Temptations, The Commodores and many more. Grab some gourmet food truck eats from 4 – 7pm.
Ballona Discovery Nature Camp
Monday, June 17th to Friday, June 21st
Monday, June 24th to Friday, June 28th
Ballona Discovery Park
9am – 3pm
A science-based day camp focusing on nature in our urban environment. The camp encourages children (ages 8 to 11) to explore Ballona by engaging them in fun and educational activities, from identifying plants and animals to engaging in environmental stewardship projects and more. Along with the adventure and fun, many of the educational activities meet California curriculum standards. Sign up today at Ballona Discovery Nature Camp!
Campus Bagels & Brew
Thursday, June 27th
Central Park Bandshell
9am – 10:30am
If you work at The Campus, this is an event you don't want to miss! Mix and mingle with your coworkers while enjoying bagels, shmears, coffee and OJ. Breakfast available while supplies last. Don't forget to bring your employee ID badge.
Shakespeare in the Park: As You Like It
Sunday, June 30th
Concert Park
7pm – 8:30pm
Join Playa Vista Community Services and Loyola Marymount University's Theatre Arts Department, College of Communication and Fine Arts as they present Shakespeare in the Park: As You Like It. Forced into exile in the Forest of Arden, lovers Rosalind and Orlando become entangled in a beguiling game of love and mistaken identity. Bring your beach chair or blanket and join us in the park! We'll also have some gourmet food truck eats from 6 – 9pm.
The Resort/Elevation Fitness
Summer Sweat Series
Every Saturday in June
The Resort Upstairs Track
9am
All summer long, Rob will be leading a Summer Sweat Series that's sure to get you toned for the beach. Each month will have a different fitness focus. June kicks off with aerobic conditioning featuring dumbbell drop sets, resistance bands and a cardio blast! All fitness levels welcome. Learn more via PlayaLink!
International Yoga Day
Friday, June 21st
The Resort Upstairs Track
7am
To celebrate summer solstice, we are offering a specialty International Yoga Day class sure to unify your body and mind through thought and action. All levels welcome. Learn more via PlayaLink!
National Fruit & Vegetable Month with Imperfect Produce
Saturday, June 29th
The Resort
10am – 12pm
Did you know that June is national fruit and vegetable month? Did you know that "ugly" organic produce often goes to waste because of the way it looks? Imperfect Produce will be at The Resort providing samples of their yummy fruits and veggies from local farmers as well as giving discounts on their affordable delivery service. Learn more via PlayaLink!
Free Fitness Assessments
We offer free fitness assessments for anyone who wants to get a baseline of their fitness level, including flexibility, body fat, core strength, mobility and cardiovascular endurance. Learn more via PlayaLink!
Run Club
Wednesdays
The Pointe
6:30pm
Did you know that we have a weekly Wednesday night run club? It's the perfect time (and weather) to get started! Walkers, joggers and runners are all welcome! Meet us every Wednesday at Pointe Park at 6:30pm. We'll do a 3-miler around the community, followed by free pizza and refreshments from Whole Foods Market! Learn more via PlayaLink!