May 3, 2016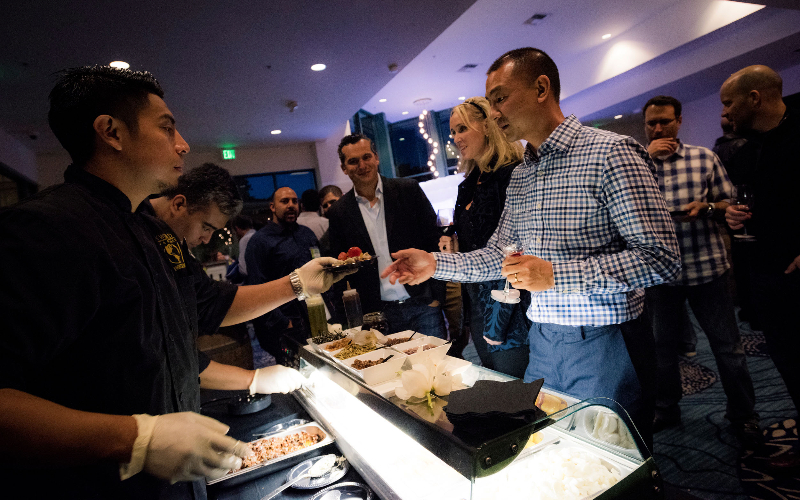 Check out all that we've got planned in May. From the Playa Vista Yard Sale and Campus Lunch to Taste of Playa Vista and more!
Campus Lunch
Campus Central Park Bandshell
Thursday, May 19th
12pm – 1:30pm
Employees at The Campus – enjoy a delicious lunch with your Campus coworkers! Make sure to bring your Campus ID badge and come early. Lunch is first come, first served.
Taste of Playa Vista
The CenterPointe Club
Friday, May 20th
7pm – 10pm
Spend the evening with your neighbors at the 2016 Taste of Playa Vista event. Enjoy food and wine tastings from around the world while participating in the live and silent auctions to benefit Playa Vista Elementary School! Don't miss out on a fun time. Tickets are $20 per person and are non-refundable. You can purchase tickets through PlayaLink.
Southern Comfort Cooking Demonstration
The Resort Demonstration Kitchen
Friday, June 3rd
7pm – 9pm
Learn to make southern comfort food recipes while sipping on a Mint Julep, Southern Sweet Tea or Texas Shiner Bock beer! Menu will include: Pimento Cheese Deviled Eggs, Sweet Corn Pudding, Southern Baked Mac n Cheese, Pulled Chicken Sliders, Southern Coleslaw, Maple Bacon Corn Muffins and Mixed Berry Crumble with fresh whipped cream.  For more information, visit Playalink.
Playa Vista Week
June 5th through 11th
Save the date for exciting promotions throughout Playa Vista. More details will be announced on the website and at PlayaLink.
Welcome to the Playa Vista Family
It's the little things that bring us the greatest joy! Playa Vista Community Services and Whole Foods want to welcome your newborn baby to the Playa Vista family. If you live in Playa Vista and have had a baby in the last three months, visit PlayaLink. We have a special treat to help welcome all the new experiences, thrills and wonders that parenthood brings.
Neighbor in Need
Life is full of challenges and, as a good neighbor, we understand how stressful that can be. Playa Vista Community Services and Whole Foods will begin accepting "Neighbor in Need" requests. Every month, we will select one request to fulfill. Our goal is to support our neighbors through this tough time. To learn about this community program, please visit PlayaLink.
Resident Events at The Resort
Please note: New hours are in place at The Resort.
Monday – Thursday: 5am – 10pm
Friday: 5am – 8pm
Saturday – Sunday: 6am – 7pm
Playa Vista Martial Arts Workshop
Saturday, May 14th
10:30am – 11:30am for kids 5 – 8 years old
12pm – 2pm for adults 18+
Playa Vista's Date Night hosted by Champ Camp!
Saturday, May 14th
6pm – 10pm
Kids stay and play while their parents wine and dine. Please visit PlayaLink for registration and details.
Kids' Cooking Class
The Resort Demonstration Kitchen
Saturday, May 21st 11am – 12:15pm
Fun and healthy cooking classes for children 6-12 years old
Please visit PlayaLink for registration and details.
Body-Back 8 Week Series for Moms
Free demos on May 2nd, 9th and 16th from 7:30pm to 8:30pm
Kick off the summer by getting your body back in shape! For more information visit PlayaLink.
EC Kids Sports Fitness Classes
Check out this new introductory fitness class for children between the ages of 3 to 5 years old. Please visit PlayaLink for details.
Other Community Happenings
Playa Vista Farmers' Market
Seabluff & Bluff Creek drives
Saturdays
9am – 2pm
The Playa Vista Farmers' Market showcases the freshest fruits, vegetables and flowers from the best local farmers California has to offer as well as other traditional market fare.
Bird LA Day and Migration Celebration
Saturday, May 7th
9am – 2pm
Friends of Ballona Wetlands are hosting their 2nd annual Bird LA Day, featuring live birds from the South Bay Wildlife Rehab and two nature walks with wildlife experts.
DETAILS »
Young Contemporaries: Annual Juried Student Exhibition
Laband Art Gallery, Loyola Marymount University
Through May 7th
DETAILS »
The Bay Foundation
Meet The Bay Foundation! They create and implement innovative projects that clean up the Santa Monica Bay waterways, create green spaces, restore natural habitats on land and underwater and offer a number of volunteer opportunities for individuals, groups or organizations!
Join our Interest List for news and updates and to be included in upcoming special events. Check back often and be sure to Like us on Facebook to be kept in the loop.