LA Times – Office Complex Gets Makeover
December 18, 2014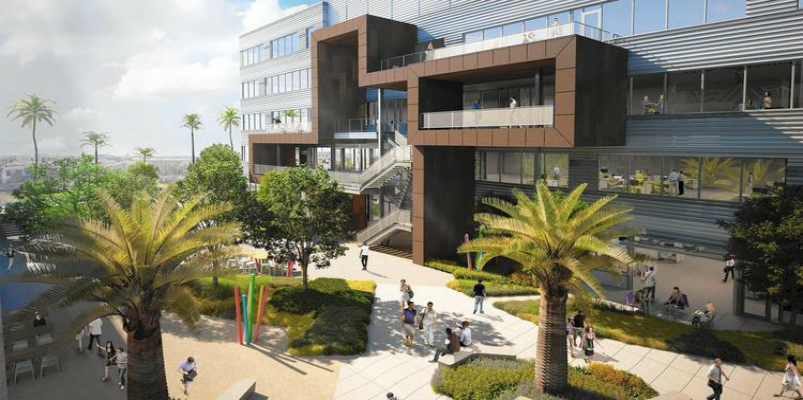 A large office complex in Playa Vista that has been vacant since it was completed during the last real estate downturn is finally roaring to life with a dramatic $8-million makeover intended to enhance its appeal to firms in creative industries.
The unusual move of breaking apart and reconfiguring a 4-year-old office complex appears to be paying off for new landlord Clarion Partners, which just signed two big tenants and is in final negotiations with a third.
Clarion said it is renting space in the complex it now calls i|o at Playa Vista to video media firm Fullscreen Inc. and media investment company GroupM.
The new leases and dramatic property makeover underline the emergence of Playa Vista as a choice address for businesses in technology, media and entertainment.
Internet titan Google Inc. this month bought nearly 12 acres at Playa Vista that is zoned for new offices or studios. Google is also expected to lease the massive 1943 hangar where aviator Howard Hughes built his "Spruce Goose" airplane.
The two six-story buildings that Clarion Partners bought for $132.7 million in July are on Millennium Drive just east of the land Google bought. They have a combined total of 300,000 square feet and have never been occupied.
To make them more attractive, Clarion took cues from the office space that tech firms were embracing in the San Francisco Bay Area and Seattle, Vice President Khalid Rashid said. Clarion added a Los Angeles twist by opening them up more to the outdoors.
"We are in Southern California, so there is no reason to be locked in an office building when you can actually work in a productive manner outside," Rashid said.
Ground-level walls are being replaced with hangar doors that can be opened when the weather is pleasant and connect the indoor office space with landscaped courtyards and outdoor meeting rooms or "cabanas."
On upper levels, the facade is being broken to create pop-out balconies and windows that can open. The building is being punctured to create individual front doors for tenants, supplanting the original design that funneled tenants through a common lobby.
Exterior stairways are being attached to the buildings to reach those new front doors and provide additional access to outside amenities. The complex is adjacent to Playa Vista's 9-acre Central Park and a network of paths for walking and jogging.
"The Class A office building of even just a few years ago — a large-scale, corporate environment — is not sufficiently attractive to today's creative office tenant," Rashid said. "With this bold new concept, we re-created the user experience."
One of the problems at the complex formerly known as Latitude 34 was a lack of curb appeal, said Olivier Sommerhalder, design director at Gensler, the architecture firm that created the makeover. The buildings were already dated, he said.
"A couple of years ago that was a solid formula for Class A office building," he said. "The market changed and what the work environment wants to be today is different than what it was five or seven years ago."
The complex at Playa Vista is a prototype, Sommerhalder said, an example of how to transform existing buildings into space "relevant for the current workforce."
The original architect of the complex is sanguine about the expansive alterations being wrought on his design.
"The work environment is so churning right now with really radical change that we constantly have to modify," said Scott Johnson of Los Angeles firm Johnson Fain. He praised Clarion Partners for risking the cost of the makeover before it had tenants in hand.
"It's a smart owner, a courageous owner who will take that chance," Johnson said, while jokingly taking some credit for his own design. "They obviously had great bones to hang it on, right?"
The makeover should be nearly complete by February, and tenant Fullscreen is expected to arrive in March to occupy 58,000 square feet, Clarion's Rashid said.
Fullscreen, now based in Culver City, is a global network of content creators and brands on YouTube, which also has a studio in Playa Vista. Fullscreen is a joint venture of AT&T and Chernin Group. YouTube is a subsidiary of Google.
GroupM has agreed to lease 49,000 square feet, Rashid said. GroupM, based in New York, is one of the world's largest advertising media companies in terms of billings. Clarion's changes to the Playa Vista complex made it appealing, a representative said. GroupM's local offices are currently in Santa Monica.
"This is a benchmark project for Los Angeles," Gensler architect Sommerhalder said. "It transforms a traditional building in a high-value area into an attractive, immersive environment."