Bisnow – The Rise of Playa Vista!
February 25, 2014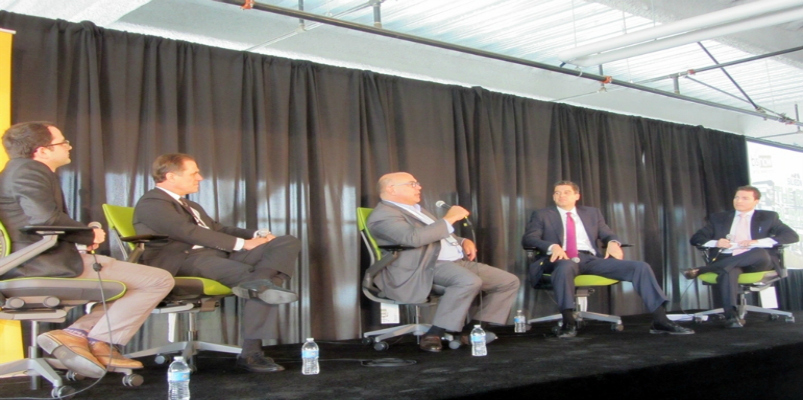 Bisnow's Silicon Beach: The Rise of Playa Vista, drew a record 500 last week to hear two extraordinary panels discuss this burgeoning enclave. Amazingly they came in business suits, not bathing suits.
Lincoln Property hosted our event at its about-to-be-revolutionized building, Latitude 34, in the heart of where Howard Hughes used to hang out. Built as a spec development in 2009, it's undergoing a $10M makeover to become the latest statement for the creative workforce. Think individual entryways even to the upper floors, indoor/outdoor connections, patios, a warmer, more textured environment, and a green wall on the parking structure, according to Gensler's Michael White. (They could make the green wall a green screen so employees can shoot YouTube videos there.)
Lincoln Property EVP David Binswanger cites Abbott Kinney Boulevard in Venice and old retail centers in Santa Barbara among the models for Lincoln's mixed-use Runway project. Rather than close the lifestyle center to traffic, cobblestones will slow down cars, and gigantic heritage trees from NorCal planted directly in the street will give it a long-established feel.Whole Foods, CVS, and Cinemark lead off the tenant roster.
Brookfield Residential EVP Randy Johnson says the company, which bought Playa Capital in December 2012, has 2,500 units under construction. Talking about how the Playa Vista market has changed, Randy notes the first residential phase was less bedroom-centered, catering to residents who had more pets than kids. (Though they often treat those pets like children.) Today, Playa Vista is home to 7,000 residents, including the200 babies born in 2012.
According to YouTube's community development manager Taylor Magenheim, the video-sharing website's value proposition is thedemocratization of access. The panel's representative user, he said YouTube Channels' 41k SF flagship in Playa Vista is a state-of-the-art production studio open to anyone with a YouTube channel. But more than just a four-walled studio, it's intended to be a place where content creators have a chance to meet and interact.
According to MVE & Partners principal Ken Nilmeier, one of the things that makes Playa Vista unique is that it has some of the benefits of being a master-planned community but also traditional connectivity andstreetscapes. "There's a real place here." The Phase 2 residential piece for the first time will knit together the overall Playa Vista Community, he says.
Moderator Andrew Kirsh, one of the founding partners of law firm Sklar Kirsh, has been heavily involved repping clients in Playa Vista and throughout Silicon Beach, working with groups like Pacshore Partners.
Binswanger said Lincoln's impetus for coming to Playa Vista in 2006 was that significant, entitled office development sites don't exist anywhere else on the Westside. In the next five years, Playa Vista rents will match if not exceed Santa Monica's. According to Randy, the holy grail for residential iseducation and another holy grail is lifestyle. Belying the adage that retail follows rooftops, he'd like lifestyle uses brought on earlier. Taylor says one challenge to developing a community has been getting YouTube content creators to stay and hang out, due to a lack of food options–but in the interim they happily bring in gourmet food trucks.