September Fun Around Playa Vista
September 5, 2018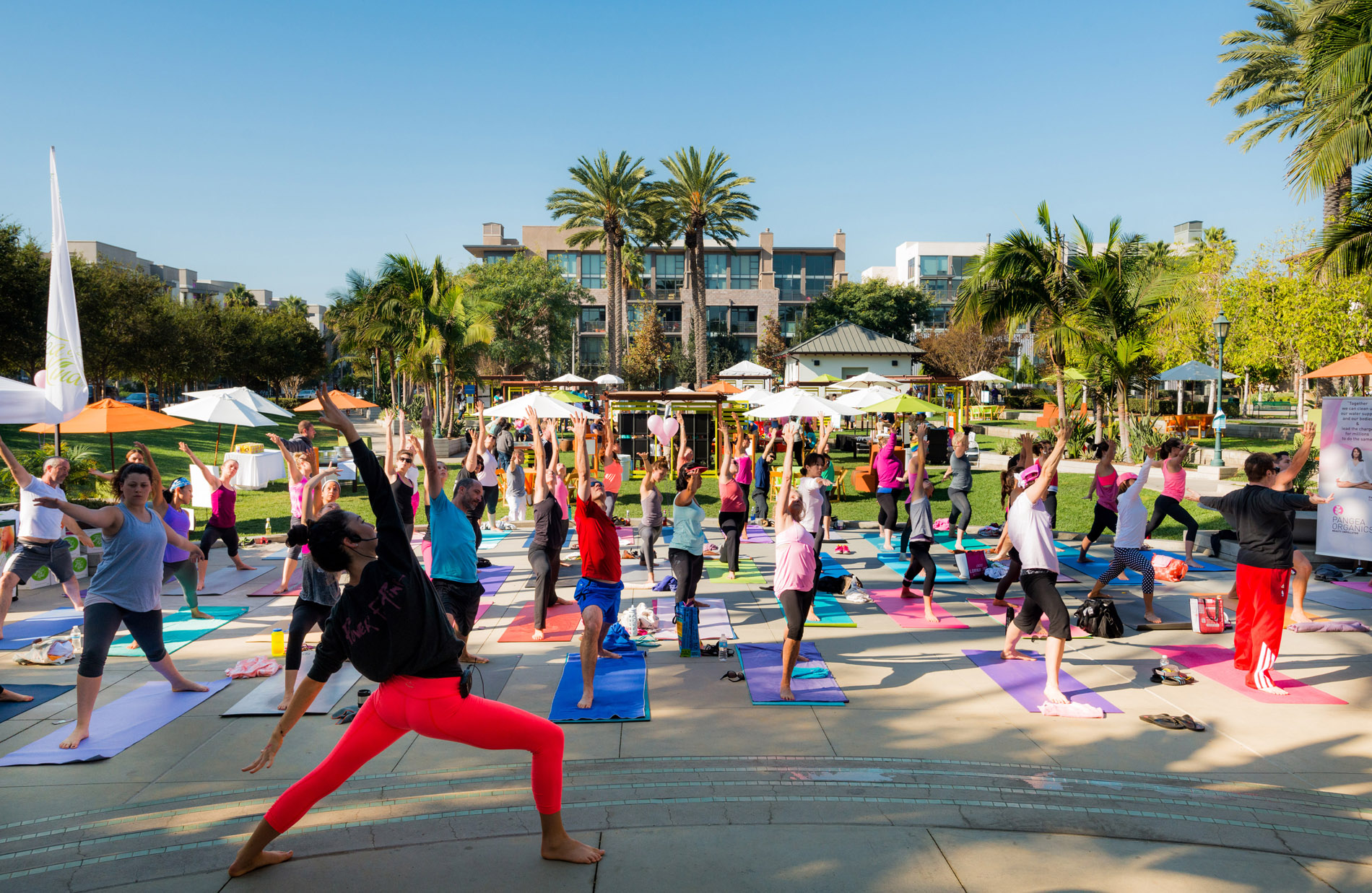 Whether it's Nature Yoga, Art & Wine, a Dessert Social or Kids' Night at The Resort, Playa Vista is bringing the excitement and the fun! See all the events and happenings that are popping up around the community in the coming weeks.
Community Events
Nature Yoga
Thursday, September 6th
Discovery Park
6pm – 7pm
Find your zen and feel energized with Mind Body & Soul Yoga at Discovery Park! Don't forget to bring your yoga mat and water!
Coastal Cleanup Day
Saturday, September 15th
Ballona Wetlands Ecological Reserve
9am – 12pm
Join the Friends of Ballona Wetlands in beautifying the Ballona Wetlands during this worldwide event in partnership with Heal the Bay. Wear closed-toe shoes and bring a reusable water bottle. Hats and sunscreen are recommended. Meet in the parking lot behind Gordon's Market at 303 Culver Blvd, Playa del Rey. For more information, please contact Friends of Ballona Wetlands
Art & Wine
Friday, September 21st
The Resort Club Room
6:30pm – 9pm
Find your inner Picasso with neighbors and friends as a local artist guides you in the creation of your own unique masterpiece. All art materials (table easels, canvases, paint brushes and aprons) will be provided. Enjoy an assortment of appetizers, wine and water throughout the event. Space is limited to 30 people and you must be 21 years or over to register. Tickets are available for Playa Vista residents exclusively and are $35 each. Sign up today on PlayaLink!
Campus Dessert Social
Thursday, September 27th
Central Park Bandshell
2pm – 3:30pm
Take a break and join your Campus friends for some sweet treats! Come early while supplies last. Don't forget your company ID badge!
Bagels & Brew
Saturday, September 29th
The CenterPointe Club
9am – 10:30am
Bagels & Brew is back! Come out and mingle with your neighbors while enjoying bagels, shmears, coffee and OJ! See you there.
Dessert Social & Solo Artist Performance
Saturday, October 6th
Concert Park
3pm – 4:30pm
Sponsored in part by Playa Vista Community Services and Team Tami – come enjoy a free ice cream sundae with a variety of yummy toppings and some live music! We'll also have some fun activities for the kids and some free giveaways! Pre-register today for your free ice cream sundae at www.playavistaliving.com while supplies last!
The Resort/Elevation Fitness
New Group Fitness Schedule
Begins September 1st
The Resort
Check out the new Group Fitness Schedule at The Resort! They've added an Aqua Aerobics class with Shirine and a Vinyasa Flow class with Mayuri. Learn more via PlayaLink!
SPECIALTY CLASS: Kettlebell Kamp with Beth
Saturday, September 8th
The Resort 2nd-Floor Outdoor Area
9am – 9:50am
Join Beth in a kettlebell-focused circuit training class that will focus on metabolic conditioning and strength to maximize your fitness gains. Start your weekend right with a killer kettlebell workout you won't want to miss! Learn more via PlayaLink!
Kids' Night Is Back!
Saturday, September 15th
The Resort Club Room
4:30pm – 8:30pm
The Champ Camp team will provide your kids with an outrageously good time. Between learning teamwork skills to build a fort, indoor group games, a scrumptious locally sourced dinner, snack and a movie, your little champ's Saturday night will be full of excitement. You can enjoy an early date night at Runway while the kids have their own fun! Sign up at our new Resort website via PlayaLink!
SPECIALTY CLASS: Playa Vista's Next Ninja Warrior with Rob
Saturday September 15th
9:00am – 9:50am
The Resort
Life throws us obstacles when we least expect them. Rob will push you and pull you through a metabolic battle ground. You'll learn how to harness your inner Ninja Warrior to overcome obstacles in the gym and in life! Please be advised that signing up for this class ensures that you will burn fat, you will sweat and you will have a blast! Learn more via PlayaLink!
SPECIALTY CLASS: PlyoJam with Christina
Saturday, September 22nd
The Resort Wellness Room
9am – 9:50am
PlyoJam is an innovative fitness method that seamlessly blends easy-to-follow hip hop dance moves with short, fast, explosive movements for an increased calorie burn. Learn more via PlayaLink!
8-Week Weight Loss Challenge
Monday, September 24th – Friday, November 16th
Ready to shed some weight and get back on track? Join our weight loss challenge this September! Lose weight, gain accountability and enjoy the opportunity to earn cash prizes for being the biggest loser! When you join, you'll get exclusive trainer-led workouts, Q&A sessions with a nutrition coach, a meet and greet, celebration party and so much more! Join us for what we expect to be the biggest and most rewarding weight loss challenge in Playa Vista! Registration begins September 1st. Learn more via PlayaLink!
Run Club
Wednesdays
The Pointe Park
6:30pm
Did you know that Playa Vista has a weekly Wednesday night run club? It's the perfect time (and weather) to get started! Walkers, joggers and runners are all welcome! Meet every Wednesday at The Pointe Park at 6:30pm. We'll do a three miler around the community, followed by free food and refreshments from Whole Foods Market (every 1st/3rd Wednesday) or GULP Restaurant (every 2nd/4th Wednesday)!
Save the Date!
Saturday, October 20th – Kids' Night at The Resort
Saturday, October 20th – Brunch Bingo at The Resort Club Room
Thursday, October 25th – Campus Brunch & Bubbly at The Bandshell (company ID required)
Wednesday, October 31st – Halloween Hangout at The Lawn
Join our Interest List for news and updates and to be included in upcoming special events. Check back often and be sure to Like us on Facebook to be kept in the loop.