May 31, 2017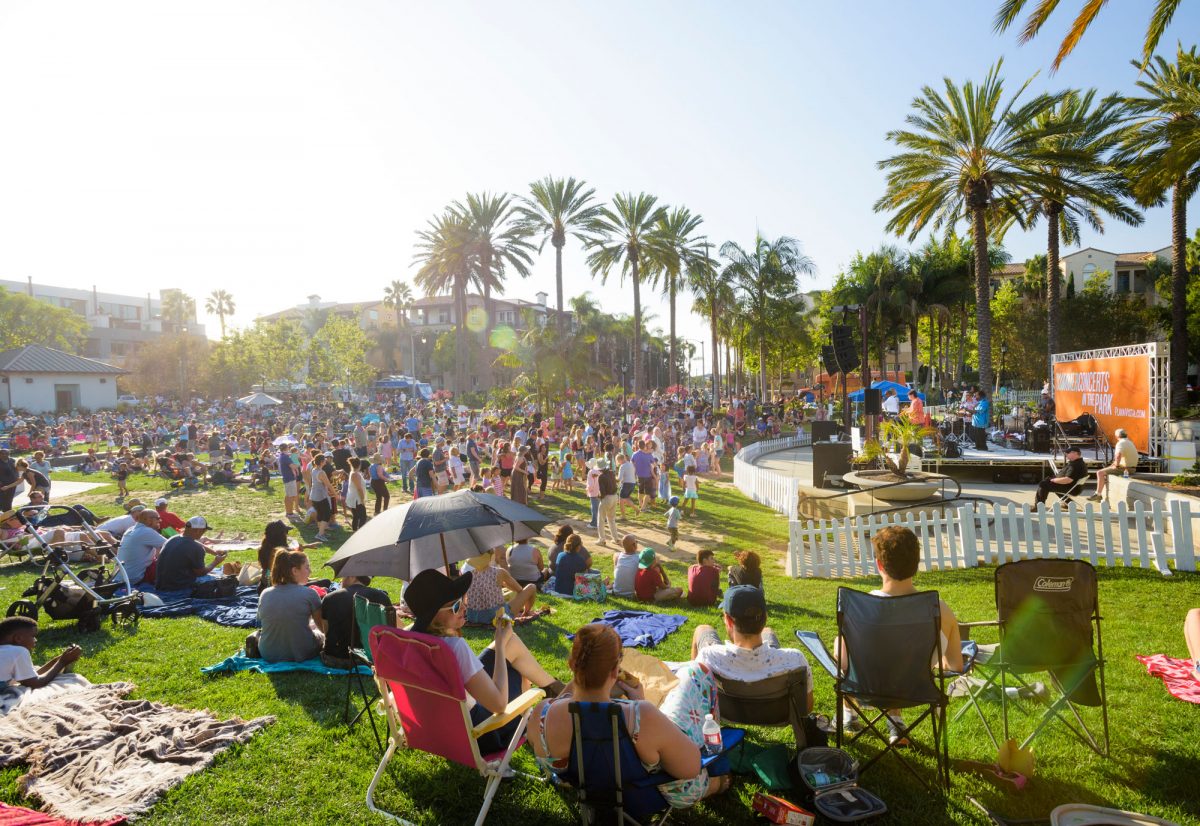 Get ready for a full summer of events! From Surprise Pop-Ups to Movies and Concerts in the Park, we've got you covered. Get the details on what's coming up in June!
Surprise Pop-Up
Friday, June 9th
Sports Park
1pm – 4pm
Treat yourself to something sweet to celebrate the end of the school year!
Yoga for a Cause
Saturday, June 10th
Concert Park
9am – 10am
Find your Zen and feel energized with yoga in the park that also supports a worthy cause. During yoga, donate in support of A Place Called Home. All proceeds benefit children in South Central Los Angeles and help to improve their lives. Don't forget to bring your yoga mat and water!
Concert in the Park
Sunday, June 18th
Concert Park
5pm – 6:30pm
Take a musical journey through the classic sounds of Motown to some recent dance hits with Aejaye Jackson and The Full Spectrum Band! Grab some gourmet food truck eats 4pm – 7pm. See summer event guide for map and shuttle information.
Food Trucks
A Rockin Ice
Baby's Burgers
Hummus Yummy
Cousins Maine Lobster
Vchos
White Rabbit
BBQ Smokehouse
Roni Macaroni

Playa Beach Party
Sunday, June 18th
Runway Playa Vista
12pm – 4pm
Surf's up at Runway! Listen to Beach Boys music, visit the craft beer and root beer gardens, hop on the surf simulator and tropical slide and stroll through the artisan vendor booths. Get more details here.
Movie in the Park
Friday, June 23rd
Central Park Bandshell
8pm – 10pm
Rogue One: A Star Wars Story
In a time of conflict, a group of unlikely heroes go on a mission to steal the plans to the Death Star, the Empire's ultimate weapon of destruction. Enjoy a variety of gourmet food truck eats 6pm – 9pm. See summer event guide for map and shuttle information.
Food Trucks
District Burger
Pinch of Flavor
Tokyo Doggie Style
Roni Macaroni
Recess Truck
Craft Night
Friday, June 23rd
The Resort, Flex Room
7pm – 9pm
Get your craft on! Join your neighbors and friends as Cherise Rollins of Ispaci takes you through the process of making a personalized set of colorful coasters that showcase your artwork. All supplies will be provided and there'll be fun giveaways. Light snacks and refreshments will be served. No previous craft experience necessary. Space is limited to 12 residents and tickets are $28 each. Sign up on PlayaLink.
Concert at The Campus
Thursday, June 29th
Central Park Bandshell
12pm –  1:30pm
Have lunch in the park and enjoy a premier unplugged cover band.  Weekend Celebrity brings a youthful edge to the mix of their diverse Top 40 song list.  We'll have a special dessert treat for Campus employees so don't forget to bring your company ID badge.
Speaker Series: 101 on Pet Care & Alternative Medicine
Thursday, June 29th
7pm – 8pm
The Resort Club Room
You love your fur babies so much that you only want to offer them the best care possible. However, with various options and theories on pet care, sometimes making the daily decisions on care can be incredibly stressful. Dr. Helen Chiu, owner of Gentle Veterinary Service (a house acupuncture service), will be sharing her experience on basic pet care and alternative medicine so that you can make the best-informed decisions on how to care for your pets and enjoy the wonderful experience as a pet owner! RSVP for this free event on PlayaLink.
SPOTLIGHT PROGRAMS AT THE RESORT FOR RESIDENTS
Specialty Class Series: Summer Sweat Circuit
Saturday, June 24th
The Resort, Outdoor Fitness Floor
9am – 10am
Get ready to SWEAT in our outdoor summer specialty class! This 60-minute specialty class will go through various circuits to challenge both your cardiovascular endurance and your muscular strength. We'll go through fun drills using the outdoor stadium-style stairs, box jumps, battle ropes, resistance bands, medicine balls, and more! All levels welcome. Bring your sunscreen! Register on PlayaLink via the Resort website.
Merryland Dance Studio
Summer Series Starting June 7th!
Offering Baby Ballerina, Prima Ballerina, Fairytale ballerina, Bangin Ballet Body, Kids Hip Hop/Jazz Combo and Hip Hop Barre Classes
Enjoy a 15% off special for PVMG and Silicon Beach members. Visit PlayaLink via the Resort Website for details and to sign up!
OTHER COMMUNITY ACTIVITIES AND EVENTS
Wallis Annenberg PetSpace
Get involved with Wallis Annenberg PetSpace. They are in search of great people who have a love for animals and a passion for helping people and pets. Volunteer opportunities are available now. Learn more or sign up to volunteer.
Welcome to the Playa Vista Family
It's the little things that bring us the greatest joy! Playa Vista Community Services and Whole Foods want to welcome your newborn baby to the Playa Vista family. If you live in Playa Vista and have had a baby in the last three months, visit PlayaLink. We have a special treat to help welcome all the new experiences, thrills and wonders that parenthood brings.
Neighbor in Need
Life is full of challenges and, as a good neighbor, we understand how stressful that can be. Playa Vista Community Services and Whole Foods are accepting "Neighbor in Need" requests. Every month, we will select one request to fulfill. Our goal is to support our neighbors through this tough time. To learn about this community program, please visit PlayaLink.
Save the Date!
Saturday, July 8th – Yoga for a Cause at Concert Park, 9am – 10am
Friday, July 14th – Movie in the Park at Central Park Bandshell, 8pm – 10pm
Saturday, July 15th – Surprise Pop-Up at Concert Park, 10am – 2pm
Sunday, July 23rd – Concert in the Park at Central Park Bandshell, 5pm – 6:30pm
Thursday, July 27th – Concert at The Campus at Central Park Bandshell, 12pm – 1:30pm
Join our Interest List for news and updates and to be included in upcoming special events. Check back often and be sure to Like us on Facebook to be kept in the loop.