Summertime Is the Best Time!
June 1, 2018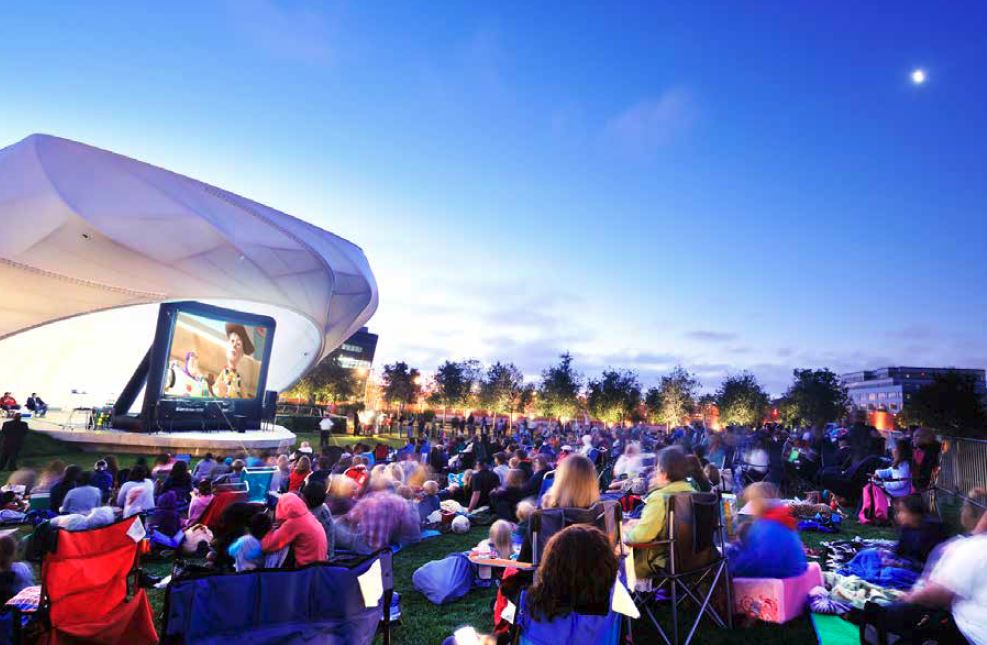 You'll find no shortage of summer fun in Playa Vista. Check out the exciting events and activities coming up this June and beyond.
Community Events
Concert in the Park Featuring Pine Mountain Logs
Sunday, June 17th
Concert Park
5pm – 6:30pm
You know their world-famous alter ego, Venice. Now see the triumphant return of Playa Vista's favorite quartet – covering all your favorite songs in perfect harmony. Grab some gourmet food truck eats from 4pm to 7pm.
Movie in the Park: Star Wars: The Last Jedi (PG-13)
Friday, June 22nd
Central Park Bandshell
8pm – 10pm
Luke Skywalker's peaceful and solitary existence gets upended when he encounters Rey, a young woman who shows strong signs of the Force. Her desire to learn the ways of the Jedi compels Luke to make a decision that changes their lives forever. Meanwhile, Kylo Ren and General Hux lead the First Order in an all-out assault against Leia and the Resistance for supremacy of the galaxy. Enjoy a variety of gourmet food truck eats from 6pm to 9pm.
Yoga for a Cause Benefiting HomeAid LA
Saturdays, June 9th, 16th, 23rd & 30th
Concert Park
9am – 10am
Find your zen and feel energized with Mind Body & Soul Yoga while supporting a worthy cause. While there, make a monetary donation in support of HomeAid Los Angeles. All proceeds will help provide shelter for more than 50,000 homeless in LA. Don't forget to bring your yoga mat and water!
Playa Vista Community Play Day
Saturday, June 2nd
The Pointe
10am – 1pm
Join the Silicon Beach Parents Group for our 2nd annual Community Picnic hosted at The Pointe, adjacent to The Resort. Guests can expect to enjoy live music, complimentary lunch and beverages, family activities, mini massages, manicures and much more! Register today at www.siliconbeachparents.com.
Ballona Discovery Nature Camp
Monday, June 18th to Friday, June 22nd
Ballona Discovery Park
9am – 3pm
A science-based day camp focusing on nature in our urban environment. Our camp encourages children (ages 8 to 11) to explore Ballona by getting them involved in fun and educational activities from identifying plants and animals to engaging in environmental stewardship projects and more. Along with the adventure and fun, many of our exploratory activities meet California curriculum standards. Sign up today at Ballona Discovery Nature Camp!
Campus Bagels & Brew
Thursday, June 28th
Central Park Bandshell
9am – 10:30am
If you work in The Campus, this is an event you don't want to miss! Mix and mingle with your coworkers while enjoying bagels, shmears, coffee and OJ. Breakfast available while supplies last. Don't forget to bring your employee ID badge.
The Resort/Elevation Fitness
Soles4Souls Shoe Drive
May 12th – June 12th
The Resort
Time to clean out your closet! The Resort has teamed up with Soles4Souls to collect shoes for those most in need. We want your old and no-longer-worn pairs (so long as they're in good condition). Collection will start on May 12th at our Fit Expo and continue until June 12th. Our goal is to donate 250 pairs of shoes – help us succeed!
Sonki Fitness Bootcamp Specialty Class
Saturday, June 2nd
The Resort
9am – 9:50am
Come experience one of the longest running and most successful boot camps in the world! For 16 years, Sonki Fitness has helped over 4,000 clients of all ages and levels get in top shape. Now you can experience it for yourself at a special complimentary class offered in Playa Vista. Sonki Fitness is a total body workout designed to challenge you mentally and physically while teaching you how to have fun exercising. Learn more via PlayaLink!
POUND Fitness Specialty Class
Saturday, June 9th
The Resort
9am
POUND is the world's first cardio jam session inspired by the infectious, energizing and sweat-dripping fun of playing the drums. Sweat, Sculpt, ROCK! Learn more via PlayaLink!
HIGH Fitness Specialty Classes
Saturday, June 16th & 30th
Wellness Room at The Resort
9am
Join the fitness craze that's getting everyone addicted! It's all about aerobic interval training with intense cardio peaks and toning tracks set to music you know and love! Finally, a fitness class that is easy to follow and a total blast. Come have some BODY-SCULPTING FUN! Learn more via PlayaLink!
Summer Sizzlin' Spin with Micaela
Saturday, June 23rd
2nd-Floor Outdoor Area at The Resort
9am
Ride your way to a sizzling summer body with Micaela as she takes you on a fun, heart-pumping bike ride! You'll tackle hills, sprints and endurance challenges that will leave you sweaty yet wanting more! Learn more via PlayaLink!
Win a Free Personal Training Session!
Residents who take 10 group fitness classes in the month of June will be entered into a drawing for a free personal training session with one of our amazing trainers! Learn more via PlayaLink!
June Check-In Challenge
Are you in the gym daily? During the month of June, we encourage you to track your visits to the gym and promote staying active during the summer months! Visit PlayaLink to learn more and be entered into a drawing for a FREE personal training session!
Free Fitness Assessments
We offer free fitness assessments for anyone who wants to get a baseline for their fitness level, including flexibility, body fat, core strength, mobility and cardiovascular endurance. Learn more via PlayaLink!
Run Club
Wednesdays
The Pointe
6:30pm
Did you know that we have a weekly Wednesday night run club? It's the perfect time (and weather) to get started! Walkers, joggers and runners are all welcome! Meet us every Wednesday at Pointe Park at 6:30pm. We'll do a three-miler around the community, followed by free pizza and refreshments from Whole Foods Market! Learn more via PlayaLink!
Save the Date!
Sunday, July 1st – Shakespeare in the Park: A Midsummer Night's Dream at Concert Park
Saturday, July 7th – Community PlayDay at The Pointe
Saturdays, July 7th, 14th, 21st & 28th – Yoga for a Cause at Concert Park
Friday, July 13th – Movie in the Park: Coco at Concert Park
Sunday, July 22nd – Concert in the Park: Steely Jam at The Bandshell
Thursday, July 26th – Campus Dessert & Entertainment with Singer Roderick Chambers at The Bandshell (company ID required)
Sunday, July 29th – Shakespeare in the Park: Othello at The Bandshell
Join our Interest List for news and updates and to be included in special events year-round. Check back often and be sure to Like us on Facebook to be kept in the loop.