What's Happening in April
March 30, 2017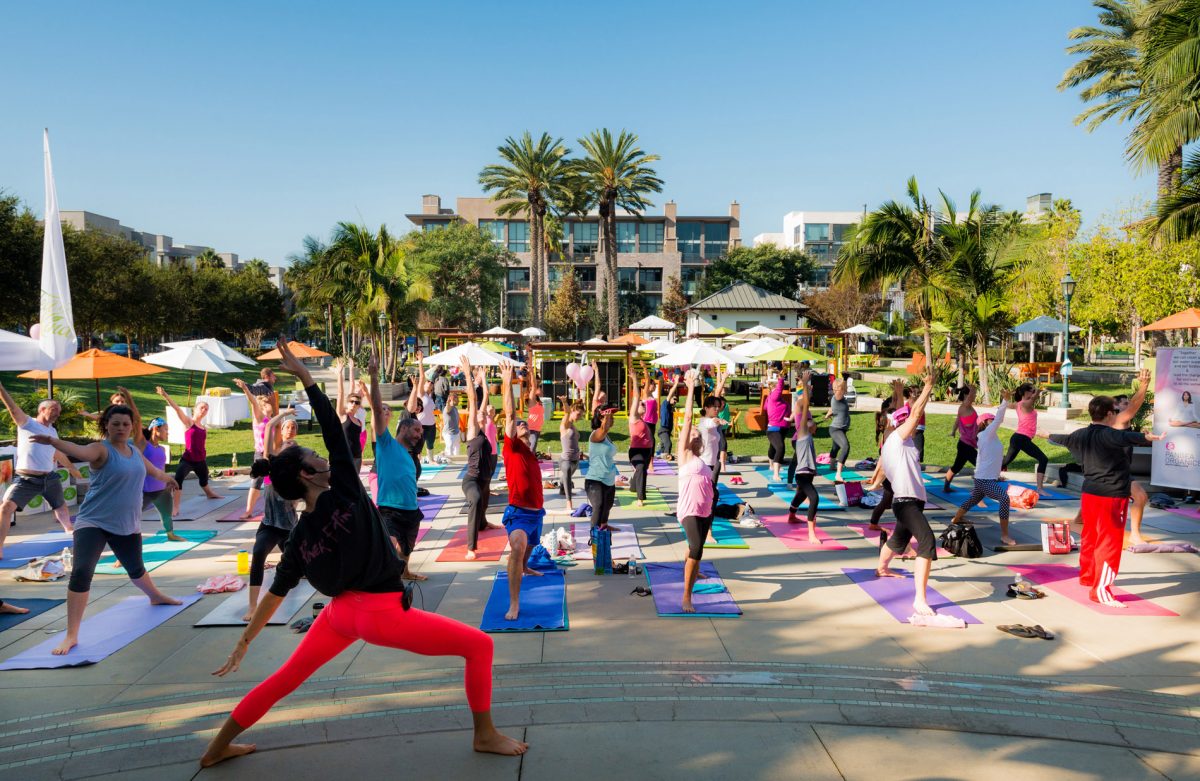 Check out what's coming up this month and save the date.
Yoga for a Cause
Saturday, April 8th
Concert Park
9am to 10am
Cleanse your mind and recharge your body with free yoga in the park that also supports a worthy cause.  During yoga, make a monetary donation in support of Wounded Warrior Support Network. All proceeds benefit various programs to support active-duty and wounded veterans and their family members through the long journey back to happy and productive lives. Don't forget to bring your mat and water!
Otis College Kite Festival
Saturday, April 8th
Santa Monica Pier
11am to 4pm
Come fly a kite! Otis College of Art and Design is hosting its 6th Annual Kite Festival at the Santa Monica Pier. See kite makers from across the United States showcase their work in the sky and create your own kite with the Otis team. Playa Vista will provide shuttles to/from the Santa Monica Pier beginning at 10:30am. Residents can hop on a shuttle at the bus stop next to The CenterPointe Club on Pacific Promenade or next to The Resort on Runway Road. See the shuttle schedule here.
Speaker Series: Emergency Preparedness
Wednesday, April 19th
The CenterPointe Club Great Room
7pm to 8pm
Although we can't predict the next emergency, we can be prepared. Cari Butler of Emergency Cafe will teach residents how to prepare for emergencies by developing a plan of action and having the right tools and materials in the right place. RSVP for this free event on PlayaLink.
Venice Art Crawl, Music Connects Us
Thursday, April 20th
Hal's Bar & Grill at Runway
6pm to 10pm
The Venice Art Crawl celebrates its fundraiser event, Music Connects Us: Photography & Art Show. VIP tickets include a sit-down dinner at the new Hal's Bar & Grill. Get complete event details and purchase tickets here. 
Speaker Series: Raising Financially Savvy Kids
Saturday, April 22nd
The Resort Club Room
10:30am to 11:30am
Become a Chief Financial Parent and put your kids on the road to a happy, healthy and wealthy future.  Learn from Andrew Rayner, a Certified Financial Planner™, how to help your children earn, save, spend and give responsibly. Spaces are limited. RSVP for this free event on PlayaLink. An additional session is scheduled at SOL Cocina on May 3rd. Email Andrew Rayner for more information.
Surprise Pop-Up
Saturday, April 22nd
Bluff Creek Fields Dog Park
12pm to 2pm
It's all about our furry friends at this pop-up. There will be fun surprises to keep your pup entertained and happy for the hour.
Runway Funday
Sunday, April 23rd
Runway at Town Center Drive
11am to 4pm
Fun and games are in store at this Runway Funday. Town Center Drive will be filled with vintage cars, go-karts, crafts and many artisan vendors. '50s music will be provided by Rockability.
Campus Bagels & Brew
Thursday, April 27th
Central Park Bandshell
9am to 10:30am
If you work in The Campus, this is an event you don't want to miss! Mix and mingle with your coworkers while enjoying bagels, shmears, coffee and OJ. Breakfast available while supplies last. Don't forget to bring your company ID badge.
Craft Night
Friday, April 28th
The Resort Flex Room
7pm to 9pm
Get your craft on! Join your neighbors and friends as Cherise Rollins of Ispaci takes you through the process of making a set of greeting cards. All supplies will be provided and there'll be fun giveaways. Light snacks and refreshments will be served. No previous craft experience necessary. Space is limited to 12 residents and tickets are $28 each. Sign up on PlayaLink.
Taste of Playa Vista
Friday, May 12th
The CenterPointe Club Great Room
7pm to 10pm
Enjoy a night out with your neighbors while supporting our community school! Try an assortment of heavy appetizers from the live action food stations while sipping on wine. There will be live music, a fun photo booth and a live/silent auction to add to the excitement. All proceeds from the auction will benefit Playa Vista Elementary School. Space is limited to 200 residents and tickets are $35 each. For more information or to purchase your ticket, visit PlayaLink.
SPOTLIGHT PROGRAMS AT THE RESORT FOR RESIDENTS
Cycling Class w/ Micaela
Tuesday, April 18th at 6pm
Fitness Room
This month, we're offering a FREE specialty cycling class that will make you sweat and have fun at the same time! Join Micaela on the saddle and ride your way into spring! Space is limited. Register on PlayaLink.
Kids' Night In/Parents' Night Out
Saturday, April 22nd
The Resort
4:30pm to 8:30pm
Ages: 4 – 12 yrs. (child MUST be potty trained)
Price: 1 Child: $49 / 2 Children: $68 / 3 Children: $78
The Champ Camp team will provide your kids with an outrageously good time. Between learning teamwork skills to building a fort, indoor group games, a scrumptious locally sourced dinner, snack and a movie, your little champ's Saturday night will be full of excitement. You can enjoy an early date night at Runway while the kids have their own fun!
Tai Chi with Kancho
Drop-in Classes: Wednesday, April 12th – May 31st at 10:30am
Price: $148.00 for the series or $20 per class
Merryland Dance Studio
Offering: Baby Ballerina, Prima Ballerina, Fairytale Ballerina, Banging Ballet Body, Kids Hip Hop Jazz Combo & Hip Hop Barre!
8-week, 6-week and 4-week options
*Now offering a 15% off special for PVMG members!
Welcome to the Playa Vista Family
It's the little things that bring us the greatest joy! Playa Vista Community Services and Whole Foods want to welcome your newborn baby to the Playa Vista family. If you live in Playa Vista and have had a baby in the last three months, visit PlayaLink. We have a special treat to help welcome all the new experiences, thrills and wonders that parenthood brings.
Neighbor in Need
Life is full of challenges and, as a good neighbor, we understand how stressful that can be. Playa Vista Community Services and Whole Foods will begin accepting "Neighbor in Need" requests. Every month, we will select one request to fulfill. Our goal is to support our neighbors through this tough time. To learn about this community program, please visit PlayaLink.
Save the Date!
Saturday, May 6th – Community Yard Sale from 9am to 3pm (contact Jennifer Kingshot at outdoorgirl9@gmail.com for more details)
Friday, May 12th – Taste of Playa Vista from 7pm to 10pm (reserve tickets on PlayaLink)
Saturday, May 13th – Yoga for a Cause at The Resort from 9am to 10am
Saturday, May 13th – Fit Expo at The Resort from 9am to 12pm
Thursday, May 18th – Campus Dessert Social from 2pm to 3:30pm
Monday, May 29th – Surprise Pop-Up on the Beach Shuttle
Join our Interest List for news and updates and to be included in upcoming special events. Check back often and be sure to Like us on Facebook to be kept in the loop.