November 1, 2017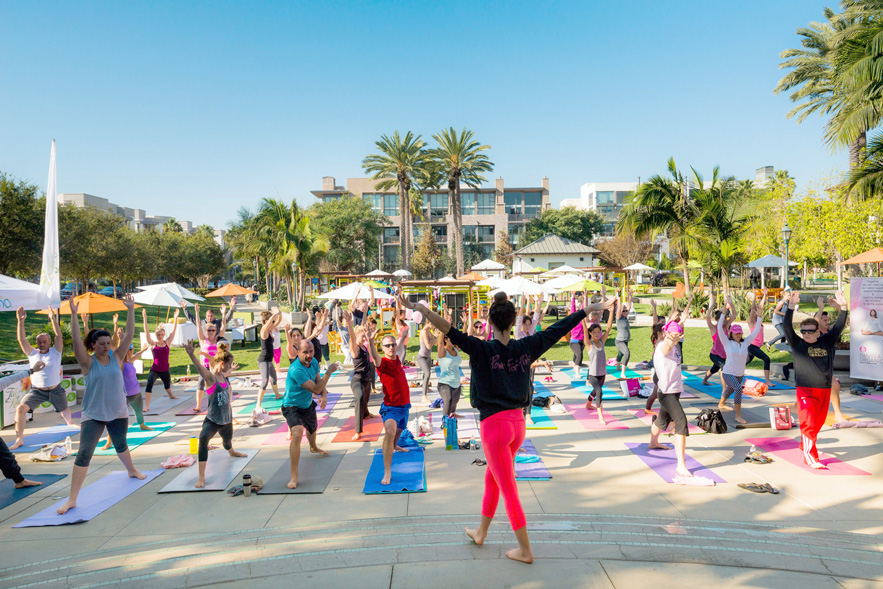 There's plenty to be thankful for in Playa Vista. Check out all the exciting events happening this month.
Community for a Cause: Documentary Screening & Musical Performance
Friday, November 3rd
Central Park Bandshell
6pm – 8:30pm
Over 50,000 people are homeless in Los Angeles. Let's be part of the solution. Please join us for a special event with the screening of the feature documentary Mighty Ground, followed by a Q&A with the producer of the film and a musical performance by its star Ronald Troy Collins and The Urban Renewal Project. Donations will also be accepted in support of HomeAid's Essentials Drive that will benefit homeless families. Visit the website for details on items needed. Food trucks will be available, and you may purchase tickets in advance at a suggested donation of $15. All proceeds benefit HomeAid Los Angeles and Mighty Ground through Creative Visions. Suggested for a mature audience due to drug material and pervasive language.
Yoga for a Cause
Saturday, November 11th
The Lawn
9am – 10am
Find your Zen and get energized with Yoga in the Park while supporting a worthy cause. During yoga, donate in support of Wounded Warrior Support Network. All proceeds benefit various programs to support active-duty and wounded veterans and their family members through the long journey back to happy and productive lives. Don't forget to bring your yoga mat and water!
Holiday Art Show
Saturday, November 11th
The CenterPointe Club
12pm – 6pm
The Culver City Art Group will present a multimedia art exhibition of original artwork by its members at their 22nd annual holiday show.  Artists' reception will be from 3:30pm to 5pm, so stop by and meet the artists!  The event is free and open to the public.
Community Yard Sale
Saturday, November 11th
Crescent Park
8:30am – 2:30pm
Save the date for this biannual community event! Declutter your home and browse through items your Silicon Beach neighbors are selling. Please contact Jennifer Kingshott at outdoorgirl9@gmail.com for more details.
Girl Scout Brownie Troop 6715 Hurricane Fundraiser
Saturday, November 18th
Crescent Park South
3pm – 5pm
Enjoy an afternoon with the Girl Scouts filled with fun, from crafts, bean bag toss and face painting to cotton candy, snow cones and more! All proceeds will benefit schools in Puerto Rico and Houston.
SPOTLIGHT PROGRAMS AT THE RESORT FOR RESIDENTS
Turkey Burn Challenge
Burn Calories & Feed a Family
November 1st – November 20th
The average American eats approximately 4,500 calories on Thanksgiving Day. Burn off some extra calories before Turkey Day by participating in our Turkey Burn Challenge. By doing so, you'll also be helping feed families in need. Starting November 1st, come to the gym and complete any of our selected exercises, such as running, rowing or cycling. Each day, write down the calories you burned into the Turkey Box and, at the end of the challenge, the total number of turkey dinners that we collectively "burn off" will be donated to families in need.
Share What You're Grateful For All Month Long at The Resort In light of Thanksgiving, we want to know what you're thankful for! Grab a fall leaf at the front desk and share what you're grateful for.
New Classes Added to Winter Group Fitness Schedule!
Tuesdays at 10:30am
The Resort Wellness Room
Low Impact Aerobics with Shirine
Sign up today on The Resort website via PlayaLink!
High-Intensity Workshop with Logan – FREE
Tuesday, November 14th & 28th
2nd Floor Outdoor Area at The Resort
8am – 8:30am
Are you looking for a fun and challenging workout? Something a little different that pushes you in a positive way? Then you need to take Logan's High-Intensity Workshop! Our trainer Logan will put you through a 30-minute high-intensity workout that will push you to your limits, and you'll walk away knowing that you put in 30 minutes of the best that you can do! Sign up today on The Resort website via PlayaLink!
Kids Night w/ Champ Camp – Final one of the Year!!
Saturday, November 18th
The Resort
4:30pm – 8:30pm
Ages: 4 – 12 yrs. (MUST be potty-trained)
Price: 1 Child: $49 / 2 Children: $68 / 3 Children: $78
The Champ Camp team will provide your kids with an outrageously good time. Between learning teamwork skills and building a fort to indoor group games, a scrumptious locally sourced dinner, a snack and a movie, your little champ's Saturday night will be full of excitement. You can enjoy an early date night at Runway while the kids have their own fun! Registration closes at 12pm on Saturday, Nov. 18th. Sign up today on The Resort website via PlayaLink!
Hydrostatic Body Fat Testing
Saturday, November 18th
The Resort
7am – 12pm
Get dunked in our Hydrostatic Body Fat Tank and get one of the most accurate body composition tests out there! Reserve your spot at BodyFatTestLA.com. Sign up today on The Resort website via PlayaLink!
Specialty Class: Burn It Off Bootcamp
Saturday, November 25th
2nd Floor Outdoor Area at The Resort
9am – 9:50am
After the multiple servings of turkey, stuffing and pumpkin pie, you know you'll need an awesome workout to get back on track and burn off all those extra calories!  Join Jenny in her Burn It Off Bootcamp where she'll take you through different circuits to strengthen your upper body, lower body and core. In this class, we will use various equipment such as free weights, BOSU balls, battle ropes and so much more. All levels welcome. Sign up today on The Resort website via PlayaLink!
Save the Date!
Saturday, December 2nd – Holiday Hangout at The Resort from 4pm – 7pm
Saturday, December 9th – Yoga for a Cause The Lawn from 9am – 10am