May 13, 2014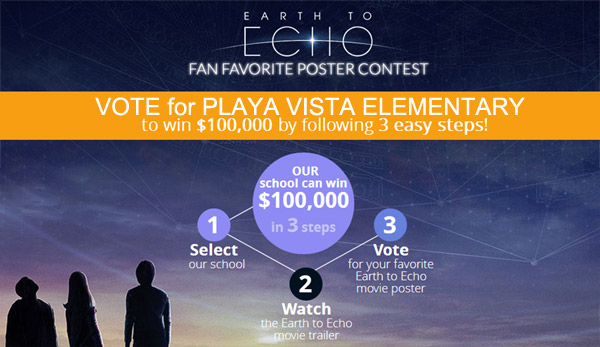 Help Playa Vista Elementary School win $100,000 by taking part in the Earth to Echo Fan Favorite Poster Contest! All you have to do is follow three easy steps and PVES is that much closer to winning the grand prize.
There must be a minimum of 500 votes for the school to qualify and voting ends June 2, 2014 at 11:59 pm. Be sure to share the contest with your friends and family!
Please click here to begin.
1. Select Playa Vista Elementary School (You can search by zip code 90094.)
2. Watch the Earth to Echo movie trailer (You must watch the entire trailer in order to proceed.)
3. Vote for your favorite Earth to Echo movie poster and then hit submit.
Thank you on behalf of the kids and PVES!
Join our Interest List for news, updates and to be included in upcoming special events. Check back often and be sure to LIKE us on Facebook to be kept in the loop.