September 25, 2018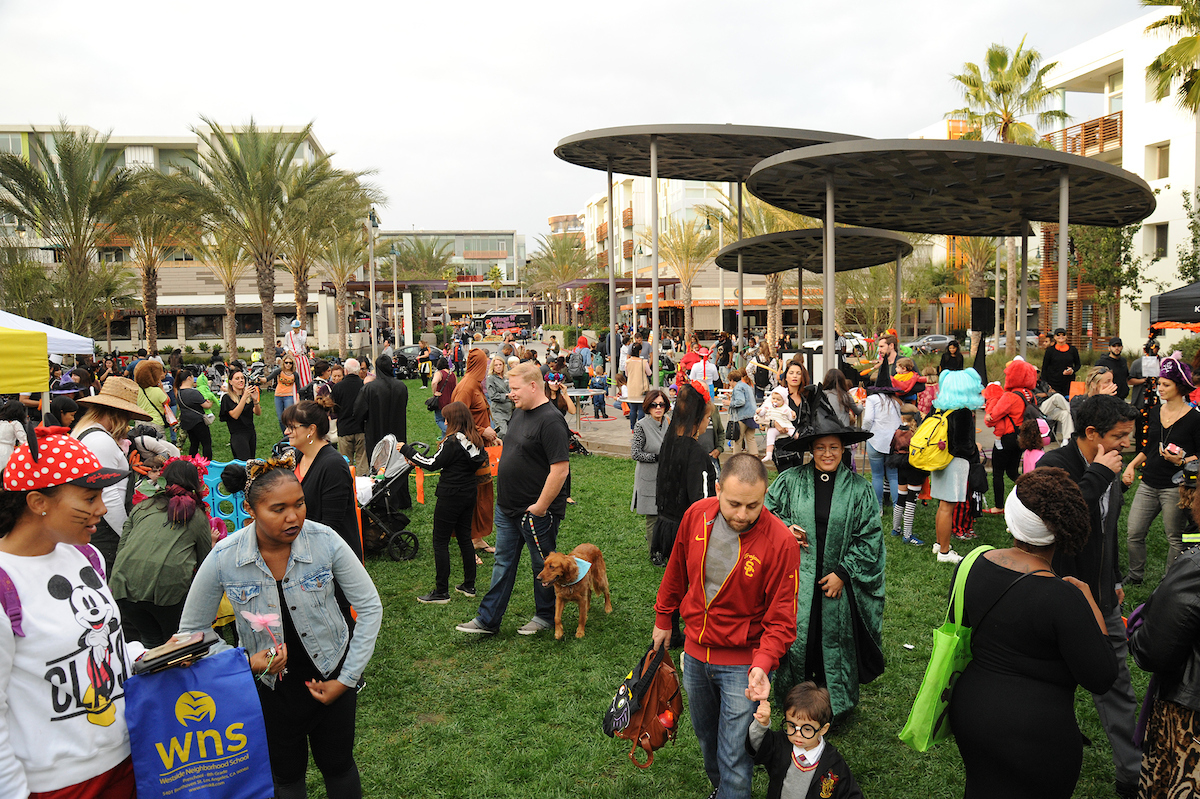 Another month in Playa Vista means another list of fun events! So come out, bring your friends and check out everything that's happening around town this October.
Community Events
Dessert Social & Solo Artist Performance
Saturday, October 6th
Concert Park
3pm – 4:30pm
Sponsored in part by Playa Vista Community Services and Team Tami – come enjoy a free ice cream sundae with a variety of yummy toppings and some live music. We'll also have fun activities for the kids and free giveaways. Pre-register today for your free ice cream sundae at PlayaVistaLiving.com while supplies last!
Brunch B-I-N-G-O!
Saturday, October 20th
The Resort Club Room
9am – 10:30am
Spend Saturday morning with Playa Vista Community Services (PVCS) for some friendly games of BINGO! There are lots of great prizes in store, and we'll provide breakfast, juices and coffee. Grab your friends and join us. Tickets are available for Playa Vista residents exclusively and are $10 each (suggested age: 8 years and up). Sign up today on PlayaLink!
Kids' Night with Champ Camp
Saturday, October 20th
The Resort Club Room
4:30pm – 8:30pm
The Champ Camp team will provide your kids with an outrageously good time. From learning teamwork skills to building a fort, indoor group games, a scrumptious locally sourced dinner, snack and movie, your little champ's Saturday night will be full of excitement. You can enjoy an early date night at Runway while the kids have their own fun. Exclusive to Playa Vista residents. Please sign up at the new Resort website via PlayaLink!
The Campus Brunch & Bubbly
Thursday, October 25th
Central Park Bandshell
9am – 10:30am
Treat yourself to a splash of bubbly with Campus colleagues and a delicious brunch. Employees at The Campus are invited to join us for Brunch & Bubbly, offering an assortment of breakfast bites, fruit, coffee and non-alcoholic mimosas. Don't forget your company ID badge!
Halloween-Themed Specialty Bootcamp Class
Saturday, October 27th
The Resort 2nd-Floor Outdoor Area
9am – 9:50am
Rock your Halloween costumes in this fun weekend specialty class taught by one of our trainers. A variety of equipment will be used to get your metabolic furnace burning before Halloween. All levels welcome. Sign up at our new Resort website via PlayaLink!
Halloween Hangout
Wednesday, October 31st
The Lawn
3:30pm – 6:30pm
Ghouls and ghosts of all ages can gather at The Lawn for a variety of Halloween treats, from arts and crafts, a DJ, juggler, stilt walker and Champ Camp to free giveaways, coffee, donut holes and much more – all sponsored by Playa Vista Community Services (PVCS) and the Silicon Beach Parents Group!
Community Yard Sale
Saturday, November 3rd
Concert Park
8am – 3pm
It's time to declutter before the holidays! Join in the semi-annual Playa Vista Community Yard Sale. Browse through all the items your Silicon Beach neighbors are selling. Please contact resident organizer Jennifer Kingshott by email at outdoorgirl9@gmail.com to learn more and register as a seller!
The Resort/Elevation Fitness
Run Club
Wednesdays
The Pointe Park
6:30pm
Did you know that Playa Vista has a weekly Wednesday night run club? It's the perfect time (and weather) to get started. Walkers, joggers and runners are all welcome! Meet every Wednesday at The Pointe park at 6:30pm. Do a three-miler around the community, followed by free food and refreshments from Whole Foods Market (every first/third Wednesday) or GULP Restaurant (every second/fourth Wednesday)!
Save the Date!
Monday, November 5th – National Donut Day in various locations throughout Playa Vista
Saturday, November 17th – Kids' Night at The Resort
Saturday, December 1st – Holiday Hangout at The Resort/The Pointe
Join our Interest List for news and updates and to be included in upcoming special events. Check back often and be sure to Like us on Facebook to be kept in the loop.