The Hollywood Reporter – Tech Startups Moving
November 2, 2014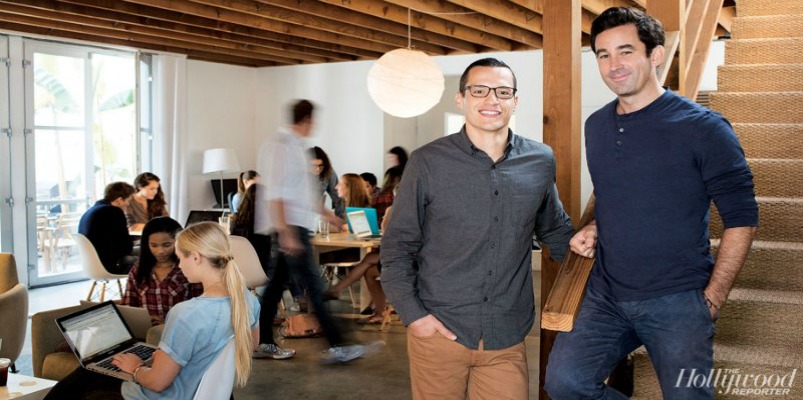 Omaze and Dollar Shave Club are among the Silicon Beach firms heading inland.
When Omaze founders Matt Pohlson and Ryan Cummins began looking for new office space in the spring for their fast-growing online charity fundraising platform, they were determined to stay in Venice.
But an eight-month search turned up few viable options, and the company had reached near-critical mass with 30 employees packed into an 1,100-square-foot live/work loft, part of a Frank Gehry/Brian Murphy-designed compound formerly owned by Dennis Hopper. Now they are nearing a deal to move Omaze five miles east. "Culver City is really investing in welcoming startups," says Pohlson.
The lack of space in Venice is a growing problem among Silicon Beach tech startups, which often reject traditional office buildings for funky creative offices in the beachside neighborhoods where they launched. As they expand, they become priced out of the area or can't find large enough spaces to accommodate their growth.
"Once these Silicon Beach companies reach critical mass, they need more than a couple-thousand square feet," says Loralie Ogden, a broker at CBRE Group. "They look elsewhere like Marina del Rey, Playa Vista and other cool-environment communities" that offer lower rents and ample space.
Startups first flocked to Santa Monica but followed Google to Venice when office space in that city approached capacity. Now L.A. tech tentpoles Snapchat and Whisper call eclectic — and gentrifying — Venice home. It even has attracted entertainment types Joel Silver and Jon Favreau, who both own production space in the area. Venice and Santa Monica office markets have among the county's highest asking rents, as much as $7 a square foot, and lowest vacancy rates, about 10 percent. Compare that with such nearby neighborhoods as Culver City, Marina del Rey and Playa Vista, which have vacancy rates as high as 22 percent and asking rents as low as $2.99 a square foot.
"[If you] need 25,000 square feet and you can save a dollar and a half a square foot, that's about $40,000 a month or half a million dollars a year," says broker Jacob Bobek at Avison Young. "That'll pay for nine or 10 employees."
Those neighborhoods have lured such companies as YouTube and Beats by Dre, and landlords are hustling to capture more tenants with plans for industrial conversions and creative campuses.
It was no surprise, then, that Dollar Shave Club found itself signing a lease for 26,000 square feet at a Marina del Rey warehouse in July after outgrowing its 7,000-square-foot Venice bungalow. "We needed to find a space large enough to accommodate us past 100 employees," says Michael Dubin, CEO of the razor subscription service. "There's just not that size of space readily available on the beach."
To be sure, tens of thousands of available square feet of office space exists in Silicon Beach — but most of those spaces are inside traditional office buildings, not the industrial buildings coveted by the tech community.
To complicate matters further, the converted warehouses many startups desire are not always equipped for digital business. It can take as long as three months and several thousand dollars to build the infrastructure to run high-speed Internet. "That's just a massive risk," says Juan Bruce, CEO of Epoxy, a YouTube tool developer that leased two separate spaces on the same street in Venice rather than starting over with a larger office elsewhere.
Still, cheap rents aren't always enough to draw companies that place a premium on creating desirable alternative cultures. "All we wanted is to have our office in Venice," says Pohlson. "We want to build up this ecosystem and help create jobs here, but we just couldn't find anything."